The ultra popular Kim Soo Hyun won the Best Actor Award on Baeksang Arts Awards. Last year, he who was just nominated for Best New Actor Award on Baeksang Arts Awards through youth drama "Dream High" to cut a figure, is returning with Best Actor Awards in just 1 year. The hero of "Hwon syndrome" of MBC's "The Moon that Embraces the Sun" which viewership ratings broke 40%, the whirlwind of Kim SOo Hyun was reproduced on the Baeksang Arts Awards ceremony, especially in the finalists of Best Actor Award which faced fierce competition this year, the award-winning by him who is the youngest is even more surprising and meaningful.
– "The Moon that Embraces the Sun" won two awards.
" I feel quite happy. As an actor, it's an honor to be able to star in "The Moon that Embraces the Sun". I really appreciate the too highly award bestowed to me. But at the same time I also feel ashamed. I don't know if I receive this award. I feel that I accepted a heavy assignment.
– You have deep long history with and the guest of honor Jeong Bo Seok.
"We starred together in 'Giant'. At that time, I learned a lot from the teacher, really appreciate it."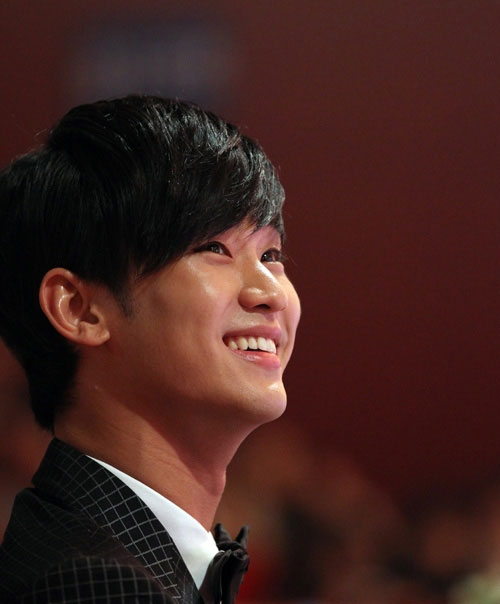 – A sentence for partner Han Ga In.
"It's good to be able to star together with sister Han Ga In. Really lucky."
– Do you expect to get the award?
"I think able to be nominated is best. Becoming the finalist itself is a great glory. I really don't know what to say for such a great prize awarded to me. Really thank you, I will accept this award as the spur to work even harder in future."
– The person you most thought of at this moment.
"Of course will think of the crew members, cast members who worked hard together in the past few months, and child actors like Yeo Jin Goo who interpreted perfectly the role of Hwon when young, and the fans who continuously give me strength and courage. Obviously, also the parents who are watching the TV and happy for me."
– Would like to know about your future plans.
"Move 'The Thieves' is about to release soon, very excited. Seems like able to show a different me. The office of management agency also passed me outlines of several movies and dramas, and I am currently carefully selecting the next project."
via Ilgan Sports