Kim Soo Hyun was complaining about the kiss scene with Han Ga In.
Kim Soo Hyun who is playing the role of Lee Hwon in MBC TV series The Moon that Embraces the Sun was appearing in MBC variety show Section TV broadcast on March 4th, 2012.
Kim Soo Hyun spoke about his scene with Han Ga In who plays the role of Yeon Woo. Kim Soo Hyun said, "It was my very first time kissing for such a long time. Tracks were laid around us, and the camera rotated 5 rounds. The duration was very long, it's very hard to endure the long breath. When I heart 'cut,' I immediately gasped. I became tired due to the gasps."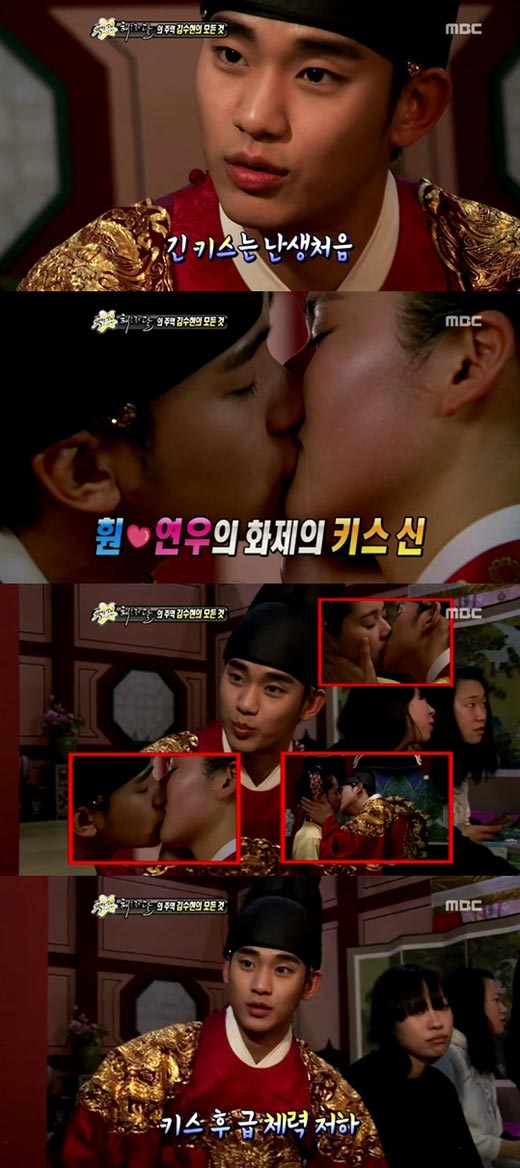 In addition, as Han Ga In who plays opposite to him has introverted personality, they were not so close in the beginning, but now their relationship has become much closer, Kim Soo Hyun showed off the friendship with Han Ga In.
Netizens commented, "The grievance of Kim Soo Hyun in the kiss scene so cute," "Could not believe Kim Soo Hyun was so honest with the difficulties in kiss scene," "The difficult kiss scene of Kim Soo Hyun has something to envy about?" "The complaint of Kim Soo Hyun reminds me of the kiss scene" and so on.
via Nate