The photo of actor Kim Soo-hyun and his mother pictured was made public.
Recently, on an Internet forum, a photo with the title of 'Kim Soo-hyun and his mother' was published. The picture was a photo uploaded by Kim Soo Hyun to his mini-homepage on 2009, and was discovered by netizen.
In the photo, Kim Soo-hyun was wearing a wool hat, and was hugged tightly by his mother who was wearing a golden hanbok. Kim Soo Hyun who has prominent appearance is indeed inherited the mother's eyebrows. From the action of his mother, it can be seen the proud of his mother for having such a fine son.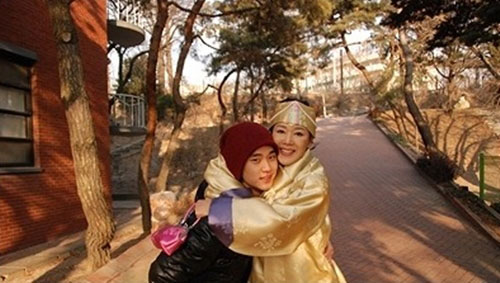 Netizens commented on the photos, "Mother is also a beauty, really a good gene," "Feel that Kim Soo Hyun should be close to his mother," "I thought she is an senior actress," and so on.
In addition, Kim Soo Hyun who promoted to the rank of superstar because of The Moon that Embraces the Sun will have an upcoming movie, The Thieves.