The saying of the protagonist of 'Hwonie syndrome,' Kim Soo Hyun, become the focus of attention again.
In the KBS' Entertainment Broadcast Show broadcast on March 24th, 2012, the CF shooting scene of Kim Soo Hyun who endorsed the Samsung notebook computer product was revealed.
When Kim Soo Hyun introduced himself on the program, he gave the low-grade to his own appearance, personality and physical strength, transforming into raving nonsense star, triggering discussion.
Kim Soo Hyun said that because of his overly sensitive character, so he gave the low-grade assessment, and that the way he relieves the stress is sleeping.
In the broadcast, Kim Soo Hyun was wearing the white suit that echoed with clothing of Park Tae Hwan, charming the viewers.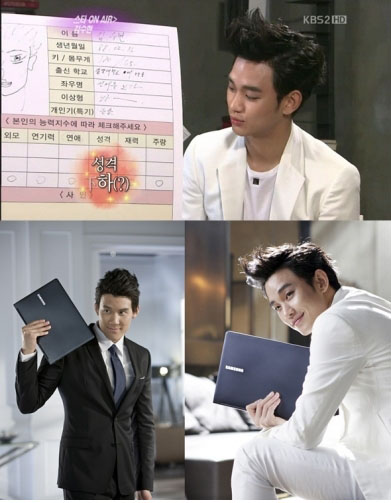 Besides, Kim Soo-hyun also reproduced the various scenes during CF shooting for the audience.