Kim Soo Hyun expressed his thoughts after completing the first shooting for MBC drama The Moon that Embraces the Sun (The Sun and the Moon) in cold weather.
On January 16th, 2012, the behind the scene video footage of Kim Soo Hyun at the filming set for the first time was published on the MBC official website.
In the video, Kim Soo Hyun was wearing a thick hanbok, and spoke while gently jumped to warm up, and then started filming.
The scene shot on the day was a scene where he is talking to Hyung Sun (Jung Eun Pyo), although his face looked young, but he displayed the look of a strict king.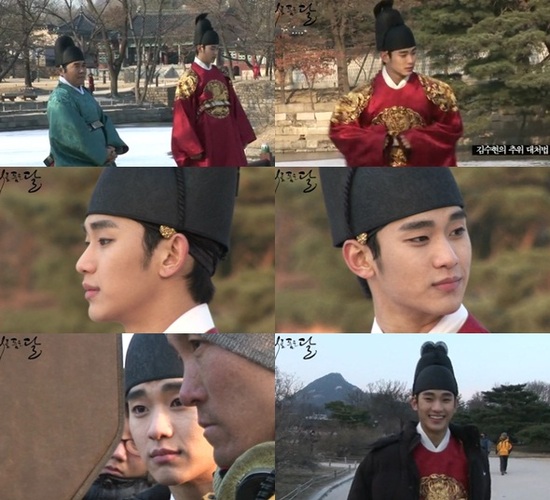 After the performance, Kim Soo Hyun immediately looked at his appearance on the camera, carefully checked and showed the professionalism, the guide by the side held up his thumb, generously praised him.
After completing the shooting, Kim Soo-hyun expressed his thoughts on the first filming, "Initially I found that I underestimated the weather, didn't do a lot of prepartion." He continued, "After the end of first shooting, I want to perform better, everybody believes I can act better, I will work even harder to perform." And he continued, "Let's end here, later will be even colder!" The naughty scene made people can't help but smiled.
On the other hand, the fantasy palace romantic drama The Moon that Embraces the Sun tells the love story between fictional king Lee Hwon and shaman Wol.
Watch the BtS video of Kim Soo Hyun's first shooting:
via Osen