The lead actor of The Moon Embracing the Sun (TMETS) recently revealed his view on love.
He said that the gift he wanted to present to girlfriend is 'himself.'
In exclusive interview by tvN's 'eNews' broadcast on March 15th, 2012, Kim Soo Hyun firstly talked about the testimony of the end of the TV series TMETS, and then confided his vision of love. After the end of TMETS, although he was busy with over a week of CF shooting, but he still accepted the exclusive interview by taking a break from his busy schedule that spans day and night.
On the day's interview, Kim Soo Hyun compared his vision of love with those of Lee Hwon character in the drama, attracting the attention. He said, "If I'm Lee Hwon, I won't let go casted down Yeon Woo (Han Ga In) from the position of crown princess just like this," showing his manly side.
When asked, "If you have a chance to choose actress to cooperate, who would you choose?" Kim Soo Hyun said, "I still hope to act together with sister Han Ga In in other films. We have good cooperation," showing their 'congeniality.' He continued, "No matter it's in the drama or in real life, I also want to have purest love just like Lee Hwon."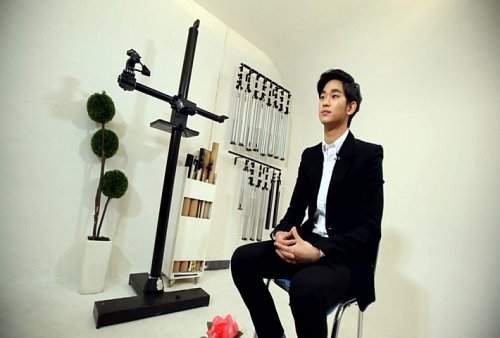 As for his ideal type which became a topic, Kim Soo Hyun said that he is just simple liking English actress Kaya Scodelario, and has no thought of acting together or meeting. He also shyly said, "Didn't expect that people will pay so much attention to my ideal type."
When asked if he has a girlfriend, what gift he wanted to present to her, he answered decisively, "Myself."
On the question of when he started to feel his popularity, Kim Soo Hyun said, "In the beginning, did not feel so much on the filming set, but gradually more and more people came to the scene to visit me." He smiled and said, "Sam Dong in Dream High also didn't have such a miracle."
The next project of Kim Soo Hyun, move The Thieves is under the focus recently. On his acting in the movie, he said that he hope the audience can reach 10 million peoples.