The singer Kim Won Joon is appearing in My Husband Got a Family as the former pop star Yoon Bin.
The episode 6 of KBS' My Husband Got a Family broadcast on the evening of March 11th, 2012 depicts Yoon Bin (Kim Won Joon) goes to real estate company of Jung Bae (Kim Sang Ho) to find a new apartment for him to move.
Wearing a white jacket and carrying a guitar, Yoon Bin who even also wearing a sunglasses proposes harsh condition, "The house that must face the south, must have sunshine that shines into the room to wake me up, must protect his privacy, and if there is courtyard that it's better."
Jung Bae asks Yoo Bin, "What's your budget for the house?" Yoon Bin coldly replied, "300,000 wons a month," and the answer freaked out Jung Bae. In the end, the place Jung Bae brought Yoon Bin to is the rooftop room of Jang Soo's villa.
Jung Bae introduces the rooftop apartment, "At this price you can also plant vegetables in the front yard, only sister-in-law will come up to the rooftop, so your privacy is protect." Yin Bin said, "I discuss with the agent, then I will contact you." After giving only this answer, then he leisurely disappeared.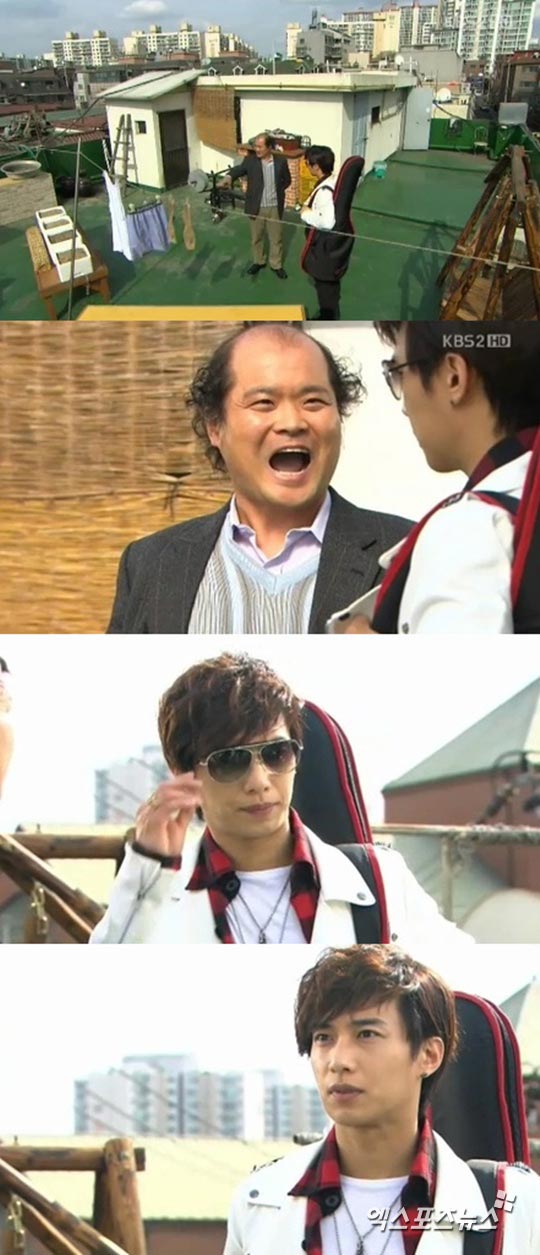 After the content of the eldest daughter of Jang Soo's villa, Il Sook (Yang Jung Ah), used to like Yoon Bin when young is made public, the relationship between her and Yoon Bin who is moving to Jang Soo's villa is getting the audience's attention.
via Xportsnews