The child actress Kim Yoo Jung revealed the difficulties she is unwilling to discuss about busy filming schedule.
In "A Pleasant Day" broadcast on the morning of January 11th, 2012, the pleasant and lively shooting scene, and the current situation of "six siblings" child stars in MBC's The Moon that Embraces the Sun (The Sun and the Moon) were made public.
On the day, Kim Yoo Jung and Jin Ji Hee were interviewed during the rest time in the midst of filming, although it's very cold, but they still talked in a jovial mood.
When was asked "isn't it cold?" Jin Ji Hee answered, "Too cold. Today's temperature is minus 14 degrees Celsius." And Kim Yoo Jung revealed that she is homesick, saying, "I want to go home, haven't sleep for a long time."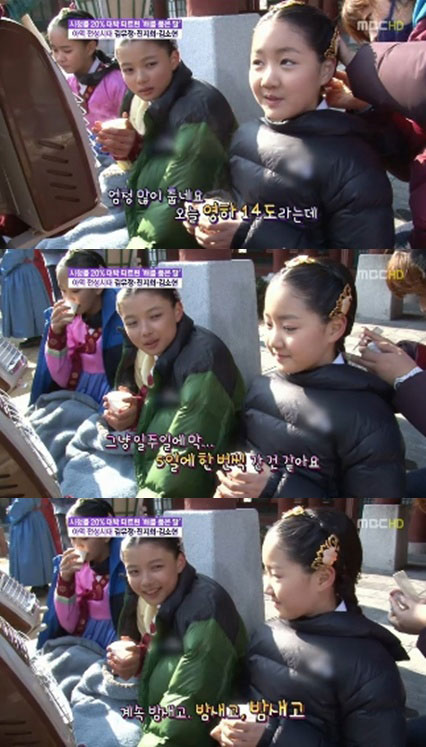 Staff said, "During filming, Kim Yoo Jung can only go back to her home once in 5 days," making people regrettable after listening to it.
Besides, Kim Yoo Jung said, "Now is in filming, everybody else is also on the set to shoot until wee hour or even overnight." She continued, "Almost everyday has to stay up late," revealing that she is digesting the busy schedule.
via TVDaily