In the battle of Wednesday and Thursday drama, King 2 Hearts won the war.
According to statistics released by AGB Nielsen Media Research agency on March 22nd, 2012, the rating for premiere episode of King 2 Hearts aired on March 21th, 2012 is 16.2%, while SBS' Rooftop Prince rated 9.8% and KBS 2TV's Man From the Equator rated 7.7%.
The day was the premiere of 3 new Wednesday and Thursday dramas, thus which drama could win the throne of ratings war was especially grabbing attention. The war of Wednesday and Thursday drama has been intense from the beginning.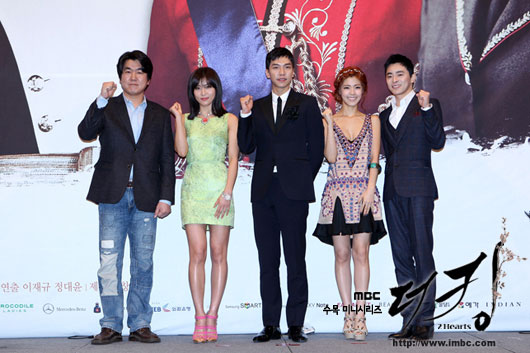 The result is The King 2 Hearts won the victory with rating that more than double the the bottom-ranking Man From the Equator. Rooftop Prince starring Micky Yoochun and Han Ji Min came in second.
The better ratings for The King 2 Hearts has been widely expected as the drama is succeeding The Moon that Embraces the Sun that concluded with over 40% ratings, but nobody would expect that it can lead the rivals with the margin of 7%.
Previously, in order to avoid head to head battle with national drama The Moon that Embraces the Sun that hit ratings over 40%, SBS and KBS had spared no efforts in postponing the debut of new drama by airing replacement programs such as single act drama, but unexpectedly still tasting the defeat.
Although The King 2 Hearts won the first round ratings war, but Rooftop Prince and Man From the Equator have also been receiving praises from the audience. How the ratings war turns up is under the spotlight.