South Korean pop girl group f(x) member, Krystal, revealed a photo of herself that resembles foreigner.
On the afternoon of January 6th, 2011, Krystal published a photo on her me2day account, and left a message saying, "Foreigner Krystal."
In the photo, Krystal was wearing a blue plush coat with a shiny blond hair, the contrast of two colors is very strong, showing a different flavor.
In the High Kick 3 broadcast on January 4th, 2012, Krystal transformed as blonde, wearing a blue pupil to appear, and demonstrated her fluent English. She looks very similar to foreigner, causing audience to be surprised.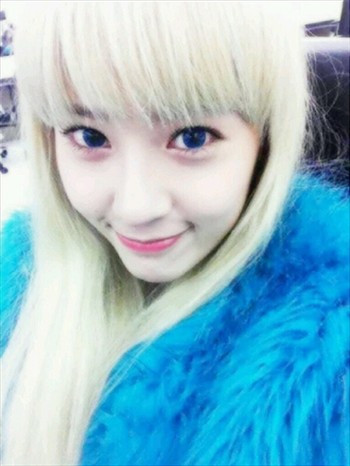 Netizens said, "Krystal is very suitable to dye blonde hair," "English is so good, there are people who believes you're foreigner," "Be a blonde during f(x) activities," and so on.
Krystal is now appearing in MBC sitcom High Kick! 3: Counterattack of The Short Legs,playing the role of naughty Ahn Soo Jung who is well loved by the audience.