With the happy ending of Flower Boy Ramyun Shop (Cool Guys, Hot Ramen) on December 20th, 2011, Lee Chung Ah expressed her gratitude to viewers.
Lee Chung Ah plays the 'warm blood' and outgoing character of Yan Eun Bi in the drama, the unrealistic exaggerated expressions and acting, and her enthusiasm brought a lot of joy to viewers. The refreshing role managed to attract viewers.
Lee Chung Ah continued her streak of working with handsome flower boys. After Kang Dong Won and Jo Han Sun in Romance Of Their Own, she is receiving the care of Jung Il Woo, Lee Ki Woo, Park Min Woo and Jo Yoon Woo in Flower Boy Ramyung Shop. Many female fans have envied her for scoring the best flower boy partners.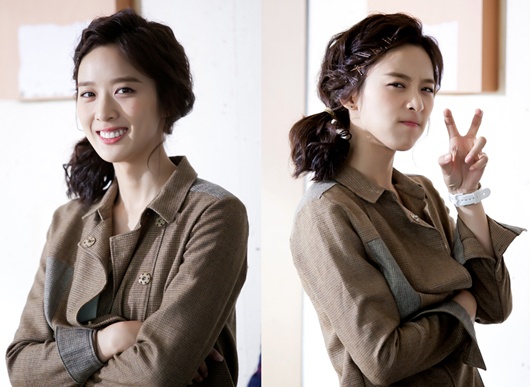 Lee Chung Ah said, "Originally agreed with the actors that we wouldn't cry in an unsophisticated way for the last shoot, and will say goodbye with bright smile. Unexpectedly eventually there is still mixed emotions in my heart. I believe that until the end I didn't portray the role of Yang Eun Bi well like in my imagination, but luckily it's received much love from viewers. Hope that if there is chance I can act in another role like the old-fashioned yet sexy Yang Eun Bi."
She also humorously said, "I'm so thankful that Flower Boy Ramen Shop is receiving lots of love and care from many friends. While I was filming, my heart was warmed and I was happy. I still can't believe that we've done with shooting, and it's not easy to forget Yang Eun Bi, but I hope she's can live without constipation."
Flower Boy Ramyun Shop ends with a happy ending with Jung Il Woo and Lee Chung Ah kissing, and a message of "If your heart burns because of someone, that is the best moment."