A series of still images for Glory Jane (Man of Honor) has been published today, where Lee Jang Woo is kissing Park Min Young forcefully in a sudden raid. The photos have surprised viewers and also raised the curiosity. The production team revealed that the relationship between them will change following the scene, and as such, the triangular relationship between Park Min Young, Lee Jang Woo and Chun Jung Myung is started.
The kissing photos released today is part of the content of episode 7, broadcast on November 2nd, 2011. After viewing the photos, netizens are surprised by the violence shown by Lee Jang Woo. In the drama, the scene tells about Park Min Young goes to the house of Lee Jang Woo to become his private nurse. After opening the door, although Lee Jang Woo is surprised but actually he who has been actively courting Park Min Young is very happy. In the photos that made publicly available, although it's obviously shown that Lee Jang Woo suddenly strikes Park Min Young to kiss her forcefully and throws her onto the sofa for more intimate acts, but there is no expression of surprise on the face of Park Min Young, who only show expression of calm. This have audience scratching their heads, causing everyone's curiosity.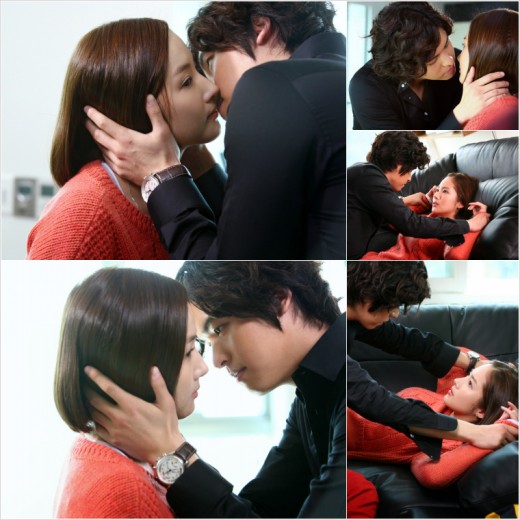 The scene was shot in a hotel on October 20th, 2011 by Lee Jang Woo and Park Min Young. It's reported that both of them has been getting familiar quickly because of filming in the drama, and before the actual shooting, they have studied with each other for a while, and thus during actual filming, there wasn't any NG involved before meeting director's requirement. In particularly, Lee Jang Woo who has refined and courteous image normally is transformed into "violent man" once he immersed into the character, drawing praises from the staff crews.
The crew responsible for the scene said, "This kiss scene is the key to the development of their feelings, Lee Jang Woo who decided not to let go of Park Min Young tries to find way to keep Park Min Young by his side, and as such the relationship between Chun Jung Myung and Park Min Young is been tested, and the love triangle will also officially start."
On the other hand, the ratings of Glory Jane has been good since the debut of the drama, and it's hoping that the intense plot will achieve an even better results.