The facial look of actress Lee Ji Ah has many similarities with the lead female character in Japanese manga Neon Genesis Evangelion (commonly known as EVA or Evangelion), attracting netizens' attention.
Recently, on a forum in Korea, there was a netizen did a comparison between the First Child of Japanese anime Neon Genesis Evangelion, Ayanami Rei, and the heroine of Me Too, Flower!, Lee Ji Ah, and found that the resemblant and similarity between them is high, and this has become a hot topic of discussion for netizens.
The anime of Evangelion is not only well loved by fans in Asia, but also has a high status among the fans of anime around the world, while Lee Ji Ah in the currently airing Me Too, Flower! is also liked by viewers, so determined netizen found out the classic styles and expressions of Rei Ayanami of Evangelion, and made a direct comparison with Lee Ji Ah's expressions in Me Too, Flower!. The comparison was full of delight feeling.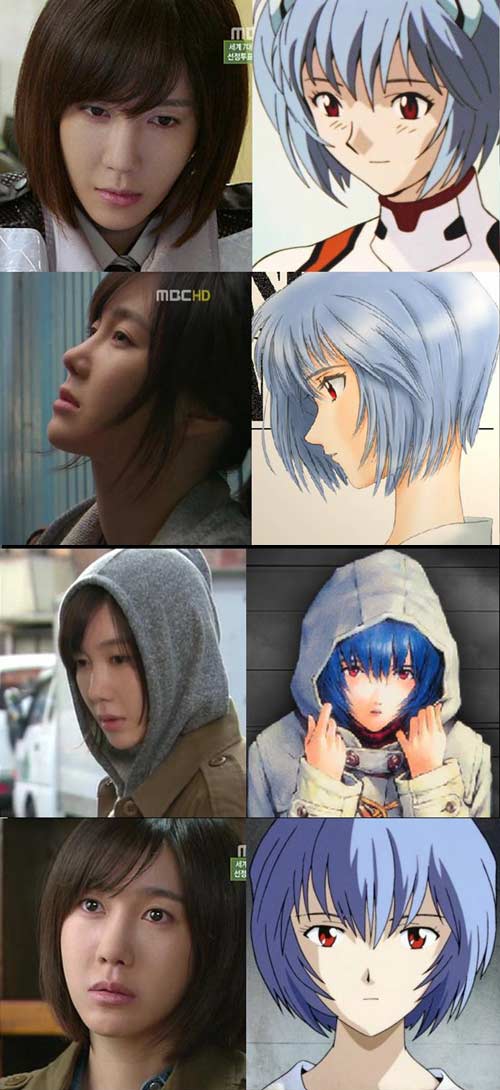 After seeing the composited comparison photos, many netizens replied to the thread and said, "Seeing Lee Ji Ah is like seeing Rei Ayanami, no matter it's girl's action, or female solder's expressions, no matter how it's looked, Lee Ji Ah and Rei Ayanami are indeed very alike. Lee Ji Ah has a beautiful face of the anime character. Because of Me Too, Flower! I started to pay attention to Lee Ji Ah, and because of Rei Ayanami, even more like Lee Ji Ah now."