Lee Jin who is originating from Fin.K.L is opening to public the set of KBS 2TV drama Glory Jane, very eye-catching.
In Glory Jane, Lee Jin successfully transformed into a glamorous urban woman, and since the publication of the harmonious behind the scene photos, she has attracted everyone's attention.
At the filming that took place on October 30th, 2011 at the rooftop of a high-rise building at Bongnae dong, Lee Jin wore a tasteful fashion elite dress, she who is full of personality was also wearing sunglasses, causing the staff crews on the set to fix their focus upon her. Especially she had been shooting from dawn to dusk under autumn's sun and was still showing smiling face, which made the harmonious atmosphere.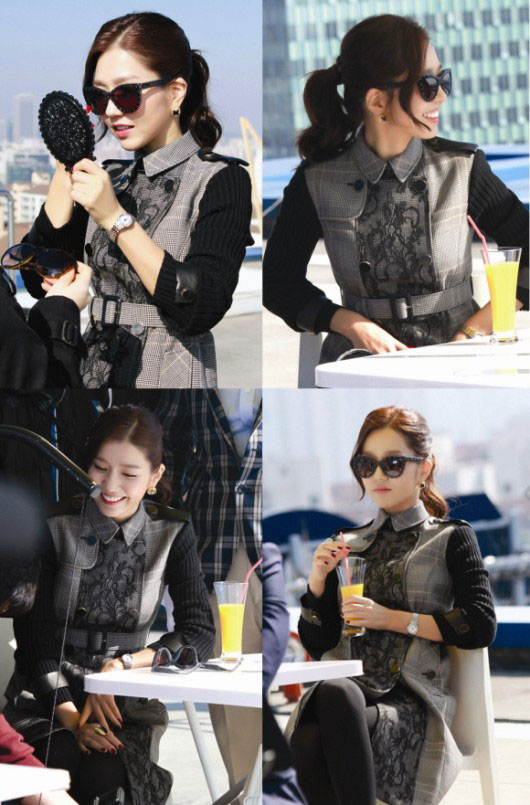 In the photos, Lee Jin was carefully adjust her sunglasses when looking at the mirror, while waiting for her turn of filming, she was talking in a jovial mood with other actors or crews, looked very happy. In addition, she also utilized film props smartly, the look of her holding fruit juice is haughty and cool, very charming.
Upon seeing the photos, netizens left messages one after another, "Te urban femininity charm of Lee Jin is attractive," "A very harmonious atmosphere while shooting, it looks good," "looking forward to distictive fashion sense of Lee Jin," and other reactions.
In addition, Glory Jane is aired every Wednesday and Thursday night at 9:55 PM.
via Starnews