Lee Min Ho time traveling to modern era to taste the instant noodle.
Teacher Song Man Bo(played by Lee Min Ho) officially debuted in Rooftop Prince broadcast on March 22nd, 2012, increase the viewability of the drama.
The sixth grade officer Song Man Bo in the drama can memorize without error the numbers, text and pictures, is a important role besides crown prince Lee Gak (Park Yoochun).
On the day, Song Man Bo is crossing the time to come to modern era with crown prince, and eat instant noodle for the first time with Park Ha (Han Ji Min). It's reported that in order to film the scene, each persons ate as many as a dozen instant noodles on that day.
Previously, Lee Min Ho earned the love of audience by starring in The Moon that Embraces the Sun as Prince Yang Myung. This time, he once again starring in a historical drama, continues to get the attention of the audience.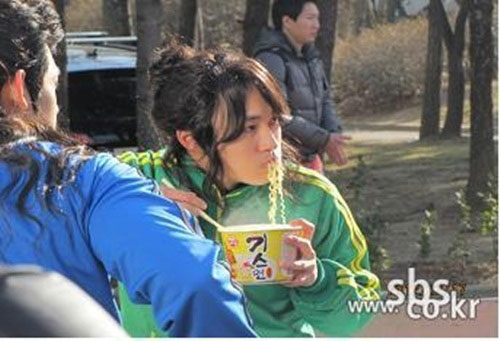 In the episode 1, Song Man Bo is playing an extraordinary role besides crown prince, and the anticipation has been heightened since the release of preview for episode 2.
Rooftop Prince broadcast every Wednesday and Thursday on 9:55pm.
via Yahoo!