The desire of Lee Min Ho (19 years old) from The Moon that Embraces the Sun to win the Newcomer Award exposed.
In the MBC talk show Good Day broadcast on the morning of March 19th, 2012, the interview of Lee Min Ho who complete portrayed the willingness to part of Yang Myung during his childhood was broadcast.
Lee Min Ho who is currently starring new SBS Wednesday and Thursday drama series Rooftop Prince said, "Now the audience no longer calls me by the name in SoonPoong Clinic, but starts to call 'Lee Min Ho,' very grately."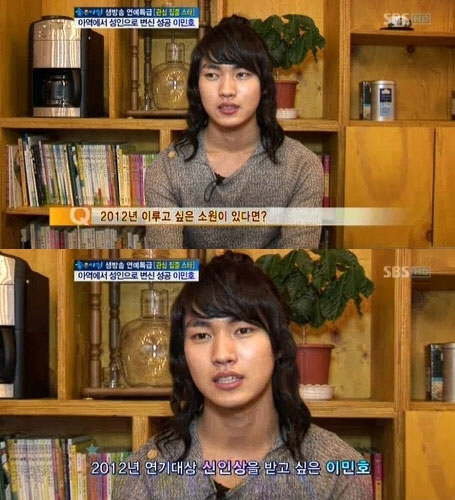 Then, he continued, "To be frank, I have desire for the Newcomer Award. When I was a kid, I used to won the child star award, but as a adult actor, I haven't won any award. So at the age of 20, with the mindset of new actor, hope to win the Newcomer Award."
Rooftop Prince debuts at 9:55pm on the night of March 21st, 2012.
via Sports Khan