Actor Lee Min Ho was been interviewed by Vogue Girl magazine in February 2012. His interview was published in March 2012 edition of Vogue Girl magazine. Here's the interview translated into English.
– Challenging for the first time the adult role in Rooftop Prince TV series.
"Very worry. Other actors (Park Yoochun, Han Ji Min, Jung Yoo Mi and others are senior actors in their twenties. I am just stepping into twenty.
– Is there any special preparation?
"Currently finding the characteristic of Song Man Bo's personality. Want to get rid of the impact of the role of Yang Myung in The Moon that Embraces the Sun (TMTETS) is not so easy. Because the role of Yang Myung is accepted by audience in high degree.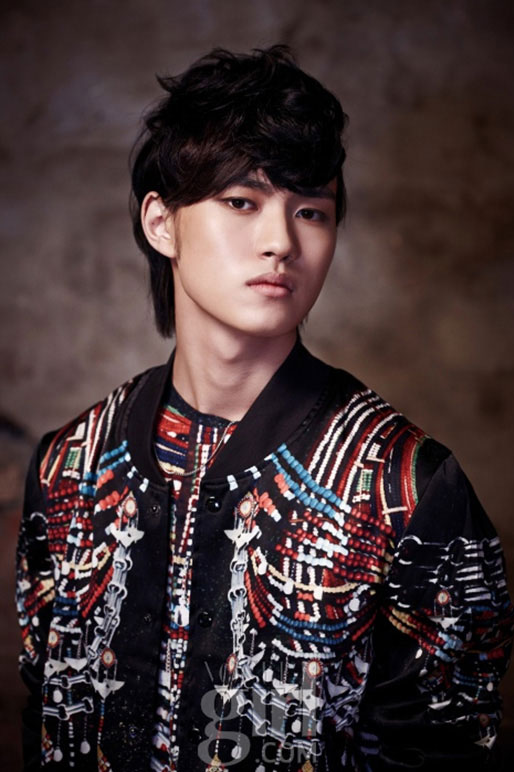 – Yang Myung has an image of capable in intellect and martial arts, while Song Man Bo is the youngest number-one scholar. Childe Jo Jung Kyu of Grudge: The Revolt of Gumiho is really smart. As the smart childe in the drama, how's the Lee Min Ho in reality?
"Very similar (laughs). Just joking, even if it's just a role, but if it can be similar then it's better. Actually, I am not that smart."
– The memory of child actors is good.
"Are you thinking that good in memorizing the script, then the examination can also depend on memory? Can study and acting be the same?"
– At what age you feel that puberty irritable and revolt period?
"Secondary two. The height suddenly grew by 12cm, the voice had also changed. At that time I resisted the parents, saying don't want acting. But when calming down and thinking what other way I could go, I started to get scare. Actor, the role which I have done for over 10 years, previously I did because others let me do it, but since then I feel that I do it because of my interest. During filming of Grudge: The Revolt of Gumiho, I started to feel that acting is interesting.
– Kim Yoo Jung who cooperated at that time has been co-starring with you once again in TMTETS. What's the feeling after meeting again after 2 years?
"Become more mature. Still can slightly feel the feeling of puberty, now she won't call me 'oppa, oppa' like previously."
– Heard that you're preparing for a moving and tragic film, also heard that there is "Jeseon version" of romance scenf of Wolf's Temptation?
"When seeing the script for episode 2, I felt momentarily that the scene is similar with Kang Dong Won in Wolf's Temptation at that time. I practiced while watching Wolf's Temptation and Classic, but it's still very difficult. There is no umbrella and no coat, just using the corner of the robe to shelter from rain. Therefore the pose was not so good. Of course, the post-processing edit was excellent.
– Is there anywhere you dissatisfied with after the scene was shot?
"The front tooth is too big. When opening the mouth looks a bit blank, when closing the month the expression looks stiff. So in the hidden camera will always show only the month, when small I feel the outlook is okay, now always have the thought whether should go for plastic surgery. Now is time to abandon the image of Jung Bae in Soonpoong Clinic.