The TV series The King 2 Hearts made public the behind the scene highlights of the first kiss scene of Lee Seung Gi and Ha Ji Won in the drama.
In episode 6 of The King 2 Hearts broadcast on April 5th, 2012, Lee Seung Gi and Ha Ji Won are staging a sweet kiss scene after confirming the love for each other. In the scene, Ha Ji Won closes her eyes nervously in the face of sudden kiss by Lee Seung Gi, while Lee Seung Gi who get rid of previous arrogant image to interpret the romantic kiss scene with a sincere heart.
During the shooting of the kiss scene, the two actors showed smile on their face, the atmosphere on the scene was very harmonious.
In the published behind the scene video clip, Ha Ji Won who is acting alongside Lee Seung Gi laughed cheerfully looking at the beer that burst out, the two persons who shot kiss scene face to face couldn't help but laughing provoked the laughter from the scene, Ha Ji Won covered her face embarrassingly after shooting the kiss scene, and the funny action by Lee Sung Min who was waiting for his turn at the side, were all making the mood at the scene to be pleasant and harmonious.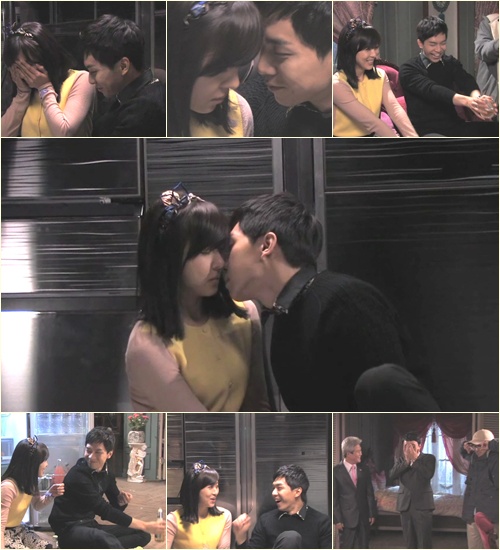 It's reported that the first kiss scene Lee Seung Gi and Ha Ji-won in King2Hearts is broadcast in episode 6 broadcast on April 5th, 2012.
Watch the Lee Seung Gi and Ha Ji Won kiss scene behind the scene video: