MBC TV's The King 2 Heart aired its 2nd episode on March 22nd, 2012. The episode tells the story of Kim Hang Ah (Ha Ji Won) saw the scene of first love practicing proposal and falls into sadness, and Lee Jae Ha (Lee Seung Gi) consoles her out of goodwill. And both of them has physical contact for the first time. The exciting content has attract a broad audience.
The first love of Hang Ah hopes to meet again, but Hang Ah goes to the appointed place, suddenly the guy kneels and proposes to her, but it turns out that the proposal target is not her, and the guy treats her as the practice object. Traumatized Hang Ah turns away and leave, and unknowingly comes to the training base. She runs foolishly round by round, and finally falls to the ground.
Lee Jae Ha saw Hang Ah sitting on the ground, and asks out of concern, "Are yo okay? How could special forces member at just such a level." Hang Ah burst into tears, and says, "Touching the injured place, how could it not painful?" Jae Ha asks, "Who made our team leader angered and cried?" Hang Ah tells him what's happened. Jae Ha consoles her, "Is the guy being exempted from military service? You are only 30 years old, no big deal, this is just the starting." Hang Ah said, "Here is South Korea, in the North I am a soldier. Let alone married, I don't even in love before, is this more like it? I don't have many demand, as long as never been to refuge camp, but must be taller than me, the outlook should not be laughed by others, of course the character must also be good, and has to have a good sense of humor, and must be undersanding, cannot look at other girls."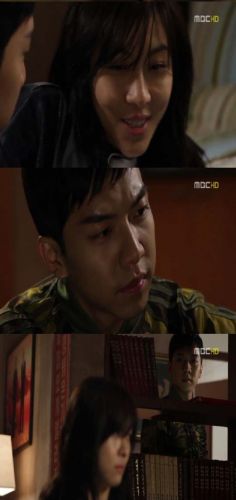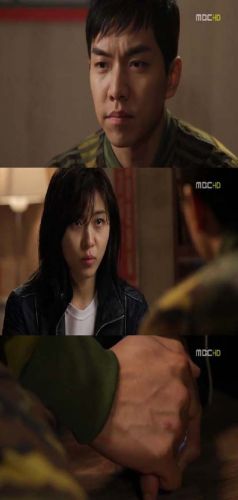 Jae Ha is curious on how Hang Ah enters into the training base, she replied, "I said the party helped me, my life as a woman is already, man… Why do men think I'm steady and don't want the girl likes me." Jae Ha consoles her, "That's because they don't have eyes, but in my eyes Kim Hang Ah is a girl, very cute," then he holds the hand of Hang Ah, making her panic.
via TVDaily