Recently, Lee Seung Gi who plays the role of South Korean king in MBC TV played in the South Korean MBC TV drama "The King 2 Hearts" took off his straight royal family uniform to shoot the endorsement CF for Pizza Hut.
In the published photos from the scene, Lee Seung Gi was either looking absent-minded at the full table of salads, or was filling the plate full with salad, and dully stared at it from a distance. His sparkling fresh smile, showing the fresh charm of the "salad king."
Netizens commented on the photos of Lee Seung Gi, "Is eating salad the secret to maintain the fit body?" "Lee Seung Gi and refreshing sweet and sour salad are well matched," "Looking at refreshing smile, I feel very happy" and so on.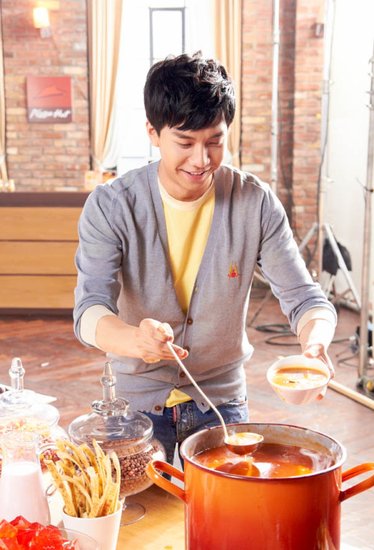 In addition, the Pizza Hut CF which shows the charm of "salad king" Lee Seung Gi debuts at May 1st, 2012.