Comedian Lee Su Geun is making cameo appearance in KBS2 weekend drama "My Husband Got a Family".
Lee Su Geun is yet another guest stars after Kim Seung Woo, Hong Eun Hee, and other stars, and will appear as the role of ex-manager of Yoon Bin (Kim Won Joon) in episode 21 of "My Husband Got a Family) broadcast on May 5th, 2012.
Yoon Bin saw the picture of Lee Su Geun on TV by chance, and recalled his heyday. The manager Lee Su Geun who worked through thick and thin with Yoon Bin during his heyday abandoned him after the popularity of Yoon Bin dropped. Lee Sun Geun who has since become the representative of largest entertainment project company said Yoon Bin is a bad guy on TV program, making Yoon Bin at a loss immediately.
The angry Yoon Bin wants to go to find Lee Su Geun, but bumps into him at the TV station by chance. Lee Su Gun said confidently, "Brother is really cannot make it, I originally still thought of old relationship to help you release an album," and hurt the self-esteem of Yoon Bin. The hilarious encounter between Yoon Bin and Lee Su Geun is expected to provoke laughter.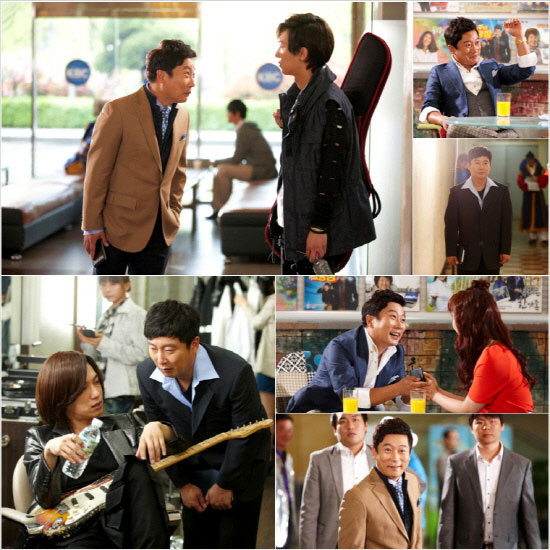 The shooting was done on April 25th, 2012, from 1pm to 6pm at KBS annex at Yeouido island. In the long filming, Lee Su Geun was leading the atmosphere on the scene with temperate literary talent of comedian. Especially on the flashback scene of Il Sook (Yang Jung Ah), he devoted into the acting, showing the acting which was difficult to differentiate if it's reality or in acting.
In addition, the expect of impromptu performance of Lee Su Geun also bring laugther to the set. He was exudiing 'president pose' from inside out by wearing golden necklace and golden ring, and the natural impromptu speech even if it's NG during shooting provoked laughter.
Not only so, Lee Su Geun who wanted to be closer with partner in the scene Kim Won Joon, also used the free time to chit chat with Kim Won Joon to find similarities. Lee Su Geun said, "The feeling of actors is awesome, when acting I feel really hard."
An official drama production team said, "The husband of Kim Nam Joo, Kim Seung Woo suggested the cameo starring by Lee Su Geun in order to cheer his wife, and Lee Su Geun also gladly agreed. The viewers will get to see a distinctive humor."
via Nate