On May 19th, 2012, actress Lee Yoon Ji tweeted on her Twitter account, "Threw the first ball as the princess Lee Jae Shin. Pasted the South Korean flag on the left side of chest and the hat. At the back is my age 29 and the name of Lee Jae Shin. Beside me is not Eun Si Kyung but Yoon Joong Do." And she uploaded two photos.
In the photos, the one who was named as Yoon Joong Do is actually the representative of management agency Kim Joong Do. While Lee Jae Shin is the name of the character played by Lee Yoon Ji in the MBC drama "The King 2 Hearts".
In the photo, Lee Yoon Ji come to the scene to kick off the game between Dosan and LG. Her look in short-sleeved sportswear and a baseball cap made her even more beautiful.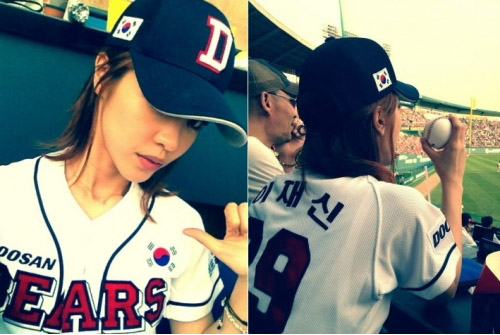 Netizens commented on the photos that it's really suitable for her, and very attractive.