The elegant queen styling of Lee Yoon Ji become the new focus of "The King 2 Hearts".
In episode 13 of MBC drama "The King 2 Hearts" broadcast on May 2nd, 2012, Lee Yoon Ji is wearing dazzling imperial crown, dressing in golden long dress that represents the Royal Family, showing the elegant demeanor of the queen.
In order to better perform the majesty of Royal Family, Lee Yoon Ji is also wearing ultra-expensive crown and branded dress. The priceless imperial crown is eye-catching, and also fully demonstrates the elegant and grandness of Lee Yoon Ji.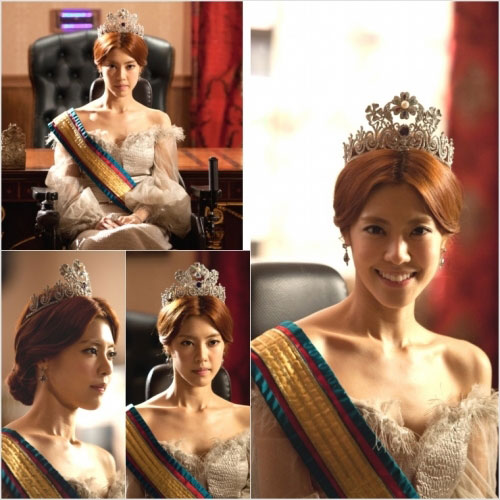 Because of the imperial crown is the expensive real thing, staff crews had to stay up late to take custody of the crown in turn, to prevent any misfortune. Producer said: "Lee Yoon Ji is fit with the image of the role in the drama which is free-spirited, bright and lively. Lee Yoon Ji put in a lot of enthusiasm on the scene, she herself is similar to the role in drama, is the source of energy for everybody. In future episodes, she will will even more brilliant performances, do look forward to it."
via bntnews