tvN's drama series Cool Guys, Hot Ramen (Flower Boy Ramyun Shop) is about to air the grand finale last episode on December 20, the producer is still keeping sense of mystery over the ending, and viewers have been getting very curious on how the complex love relationship between Yang Eun Bi (played by Lee Chung Ah), Cha Chi Soo (played by Jung) and Choi Kang Hyuk (played by Lee Ki Woo) will pan out.
In the 14th episode of Flower Boy Ramen Shop broadcast on December 13th, 2011, Cha Chi Soo ran away from home and moved into Yang Eun Bi's house. The three persons faced increased conflict and tension after living together and because of their love triangle. The rating of the day averaged 2% with highest rating hit 2.4%.
In particularly, one the day's episode, both Jung Il Woo and Lee Ki Woo look after Lee Chung Ah at the same time, causing the female viewers in front of the TV felt so jealous. The funny expressions of Lee Chung Ah's acting when wandered in between two men were also interesting.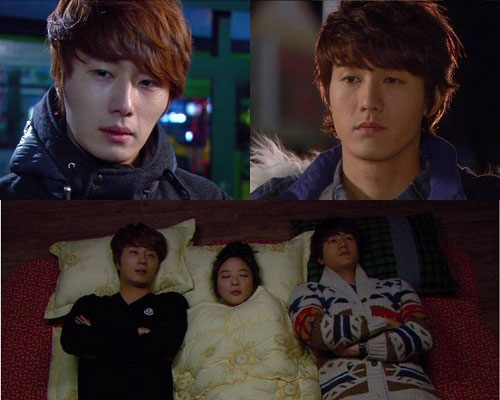 As such, who will Lee Chung Ah choose at the end, Jung Il Woo or Lee Ki Woo, have made people curious.
A production crew member said, "Now already the time of grand finale. We can't tell who will Yang Eun Bi choose but she will choose someone. But the ending will be different from the ending that is popular recently."
For the plot of the ending, entire staff crews and actors are keeping the plot to themselves, unwilling to reveal any spoiler.