Your Rating
The full album of Glory Jane (Man of Honor / Young Love Jae In) OST (original soundtrack) album has been released on December 7th, 2011. Together with the full OST album, two new song tracks have been released. Both songs are sang by different artists.
The second song is "Love You" which is recorded as the 6th song in the OST. Love You is sang by Park Sovin (박소빈).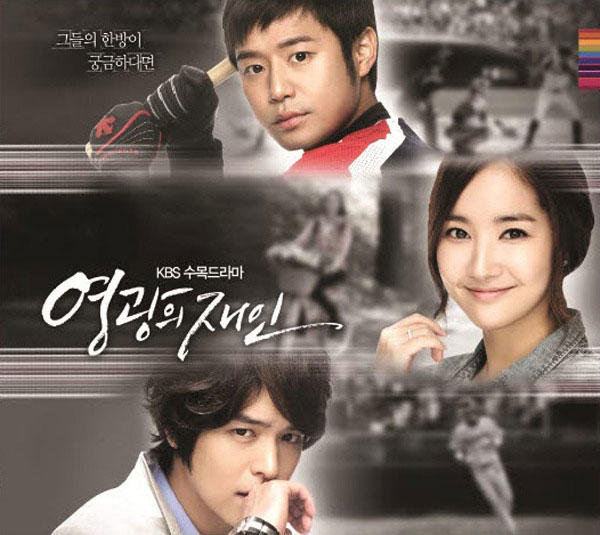 Glory Jane (Man of Honor) OST Track List
Three Kinds of Wishes (세가지 소원)
Because to Me, It's You (내겐 너니까 ) – Hyo Rin (효린)
Heartburn – Bobby Kim
It's Because of Love (그게 사랑이라서) – Jang Hye Jin (장혜진)
My Love – No Brain (노브레인)
Love You – Park Sovin (박소빈)
Opening of Glory Jane (영광의 재인 오프닝)
2 Out at the End of Ninth Round (9회말 2아웃)
Girl's Dream (소녀의 꿈)
Heart Darker Than Night (밤보다 어두운 마음)
Run Kim Young Kwang (달려라 김영광)
Happy Happy
Do You Believe in Love (사랑일까요)
Betrayal and Ambition (배신과 야망)
Rival (라이벌)
Love the Second Movement (사랑 2악장)
Trauma (트라우마)
Get Up and Try for the Eighth Time (칠전팔기)
Dark Shadow (어두운 그림자)
The Day of Glory (영광의 그날)
Toward Hope (희망을 향해)
Listen to Love You at YouTube.
Love You Korean Lyric (with Romanization Pronunciation)
내가 왜 이럴까 병에 걸린 걸까 자꾸만 머리가 어질어질 핑 돌아
naega wae ileolkka byeong-e geollin geolkka jakkuman meoliga eojil-eojil ping dol-a
눈빛만 보아도 손끝만 닿아도 니 옆에 있으면 정신을 못 차려
nunbichman boado sonkkeutman dah-ado ni yeop-e iss-eumyeon jeongsin-eul mos chalyeo
이런 내 맘 너는 상상도 못할 거야
ileon nae mam neoneun sangsangdo moshal geoya
나도 내가 참 어이 없어 사랑이라니
nado naega cham eoi eobs-eo salang-ilani
아무도 모르게 Love you 나 혼자서 I miss you
amudo moleuge Love you na honjaseo I miss you
아무렇지 않은 척 내 가슴은 울잖아
amuleohji anh-eun cheog nae gaseum-eun uljanh-a
I love you 나 어떡해 I want you 나 너만 찾고 있어
I love you na eotteoghae I want you na neoman chajgo iss-eo
인정하긴 너무 어색해도 널 사랑하나 봐
injeonghagin neomu eosaeghaedo neol salanghana bwa
내가 왜 이럴까 뭘 잘못한 걸까 자꾸만 가슴이 두근두근 떨려와
naega wae ileolkka mwol jalmoshan geolkka jakkuman gaseum-i dugeundugeun tteollyeowa
밥을 먹다가도 길을 걷다가도 니 생각만 나면 얼굴이 붉어져
bab-eul meogdagado gil-eul geoddagado ni saeng-gagman namyeon eolgul-i bulg-eojyeo
이젠 내 마음이 맘대로 되질 않아
ijen nae ma-eum-i mamdaelo doejil anh-a
돌아오라고 말려 봐도 네게 달려가
dol-aolago mallyeo bwado nege dallyeoga
아무도 모르게 Love you 나 혼자서 I miss you
amudo moleuge Love you na honjaseo I miss you
아무렇지 않은 척 내 가슴은 울잖아
amuleohji anh-eun cheog nae gaseum-eun uljanh-a
I love you 나 어떡해 I want you 나 너만 찾고 있어
I love you na eotteoghae I want you na neoman chajgo iss-eo
인정하기엔 너무 어색해도 널 사랑하나 봐
injeonghagien neomu eosaeghaedo neol salanghana bwa
바라보는 것 만으로 내 눈이 너무 행복해
balaboneun geos man-eulo nae nun-i neomu haengboghae
자꾸 눈물 나 내 곁에만 있어줄래 oh~
jakku nunmul na nae gyeot-eman iss-eojullae oh~
아무도 모르게 Love you 나 혼자서 I miss you
amudo moleuge Love you na honjaseo I miss you
아무렇지 않은 척 내 가슴은 울잖아 워우워
amuleohji anh-eun cheog nae gaseum-eun uljanh-a wouwo
I love you 나 너라서 행복해 나 처음 느낀 사랑
I love you na neolaseo haengboghae na cheoeum neukkin salang
내 가슴 속에 오직 너 하나만 담아두고 싶어
nae gaseum sog-e ojig neo hanaman dam-adugo sip-eo