The actress Han Ga In said that the memory of her first love has great help to her acting.
On the afternoon of March 13th, 2012, the lead actors in Architecture 101, Eom Tae Woong, Han Ga In, Lee Je Hoon and Suzy attended the preview screening and press conference of Architecture 101 held at Seoul Lotte Cinema of Konkuk University.
The movie Architecture 101 tells the love story of architect Eom Tae Woong recalls the sweet memories with his puppy love Han Ga In when renovating her house, and they start a new relationship.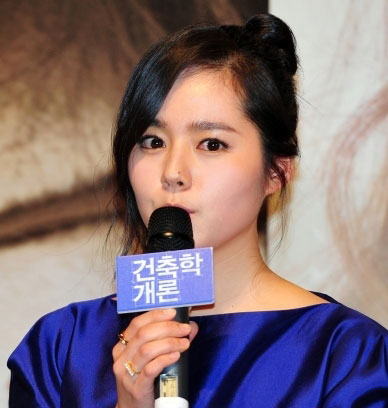 When asked about whether she has another to say to her puppy lover, Han Ga In said, "Live happily, so does me."
When asked about the acting of Suzy, Han Ga In said, "When Suzy who is very innocent and beautiful appears, it just likes a watercolor painting, the look is just as good as when I met the first love during university."
In addition, Han Ga In said, "The most memorable is the road walked together with first love, music heard togeter, these warm and happy memories have great help for my acting."
The move Architecture 101 premieres on March 22nd, 2012.
via Joynews24