Park Yoochun of SBS drama Rooftop Prince becomes the 'terminator of chaebol 2nd generation.'
In Rooftop Prince, Micky Yoochun is playing the role of crown prince Lee Gak and Yong Tae Yong, single person interpreting two roles with two different charms, receiving rave reviews. And in the three films that he starred in, he has been playing the role of 2nd generation of chaebol, becoming a talking point.
In 2010, Park Yoochun challenged of acting through KBS 2TV drama Sungkyunkwan Scandal. In the drama, he played the role of Lee Sun Joon, the only son of Left State Minister Lee Jung Moo (played by Kim Gab Soo) during the reign of King Jeongjo. The Left State Minister at that time is equivalent to executive-level senior official in modern times. And in 2011's MBC drama Miss Ripley, Park Yuchun played the role of Song Yoo Hyun, the successor of Mondo resorts chaebol group. At that time, he was like a 2nd generaiton chaebol, roding on helicopter with Lee Da Hae in dating.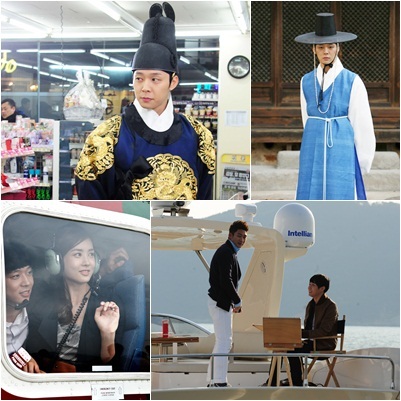 Through Rooftop Prince, the status of Park Yoo Chun rose to the role of crown prince Lee Gak during historical period, and the role of successor of popular shopping webstore Home & Shopping Yong Tae Yong in modern times. In the first episode, he was riding with Lee Tae Sung on the company's luxury yacht, attracting attention.
Netizens refers him as "2nd generation chaebol terminator Park Yu Chun," "Park Yoochun, continuous to have such a status, even Hyun Bin doesn't have it," "This kind of 2nd generation chaebel, where to find in reality," and so on.
The producer said, "All actors want to play the role of 2nd generation of chaebol at least once. We're also surprised that Park Yoochun actually plays the role of 2nd generation chaebol three times consecutively. Park Yoochun in Rooftop Prince will be different from previous 2nd generation chaebol, will capture the vision of audience with fresh and interesting acting."
Rooftop Prince is broadcast every Wednesday and Thursday.
via Osen