icky Park Yoochun of SBS new Wednesday and Thursday drama series Rooftop Prince was expressing the feeling of envy towards the ratings of MBC's The Moon Embracing the Sun.
Park Yoochun, Han Ji Min, Lee Tae Sung, Jung Yoo Mi, Lee Min Ho, and Jung Suk Won attended the production press conference of Rooftop Prince held on the afternoon of March 5th, 2012 at Jamsil Lotte Hotel.
On the day, reporters asked the opinion of Park Yoo Chun about The Moon Embracing the Sun and similar historical dramas have achieved good viewership ratings. Yoochun said, "Very envy that The Moon Embracing the Sun has such a good ratings. The drama is also very good."
Then, Yoochun said, "A good drama is by everyone's hard work. I will work hard, hoping can be a success."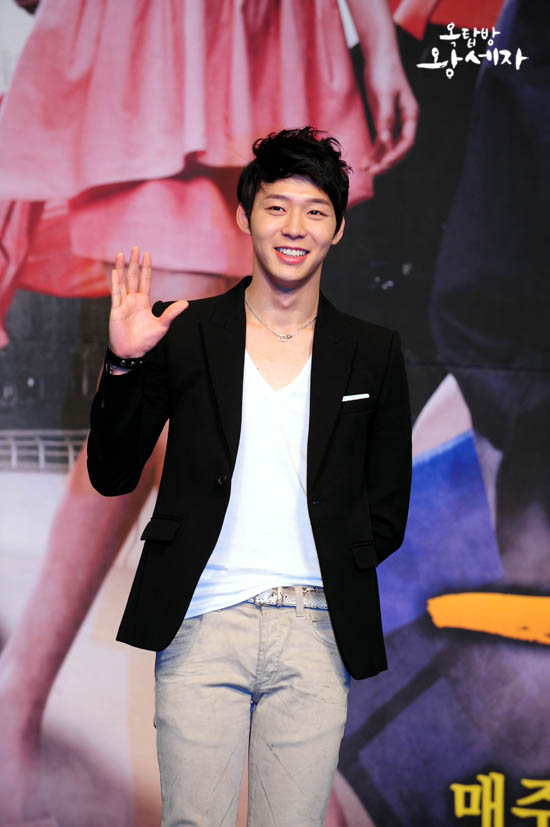 When asked about what's the differences between Rooftop Prince and Sungkyunkwan Scandal, Micky Yoochun said, "Generally speaking, the image of the characters have many differences. The differences between a scholar and a king is very big, the tone when speaking has many differences."
In the ended he said, "Comparing with role and differentiation in Sungkyunkwan Scandal, I was trying to perform the acting naturally. Even though Rooftop Prince is a mixed historical drama, but the proportion is only 30% to 40%, but because of this, the part of historical drama becomes the key to charm."
Rooftop Prince is a drama based on the story of a crown prince who lost the crown princess, and then travels through 300 years of time to Seoul in 21st century with his ministers to complete the love which otherwise unachievable. In the drama, Micky Yoochung is playing the role of crown prince Lee Gak whom nobody is comparable, has outstanding look, sharp, and act carefully.
The drama Rooftop Prince debuts on March 14th, 2012 at 9:55pm.
via Osen