The acting potential of JYJ member Park Yoochun breaks out. The acting performance of Park Yoochun who is starring in SBS drama series Rooftop Prince has been praised by audience continuously. Park Yoochun is playing the role of Lee Gak, who is the crown prince of Joseon Dynasty 300 years ago. Lee Gak uses ancient tone and voice and modern tone to speak at different occasions, which is very interesting.
In front of Park Ha and 3 confidants whom he get along with easily, he uses a majestic tone of crown prince, but in front of other people, because of he has to live with the identity of Yong Tae Yong of modern times, he has to abandon 'the tone of the king' and speak 'Seoul language,' which is very funny, similar to the plot of countryman strives to speak Seoul language in Gag Concert. Not only in the tone, the comedy acting of Park Yoochun is also surprising, who perfect performed the 'crown prince from Joseon Dynasty.'
Unknowing that he has come to modern times, he goes to Donhwamun Gate of Changdeokgung palace to shout, "Quickly open the door," and is chased away by the police, he gobbles when tasting the omelet rice for the first time at the home of Park Ha (Han Ji Min), and sucks in the Yakult in one breath as he likes the sweet food, all these scenes have constantly stimulating the audience who burst into laughing. However, Park Yoohun also demonstrates the romantic love acting skills, increasing the tension of the drama.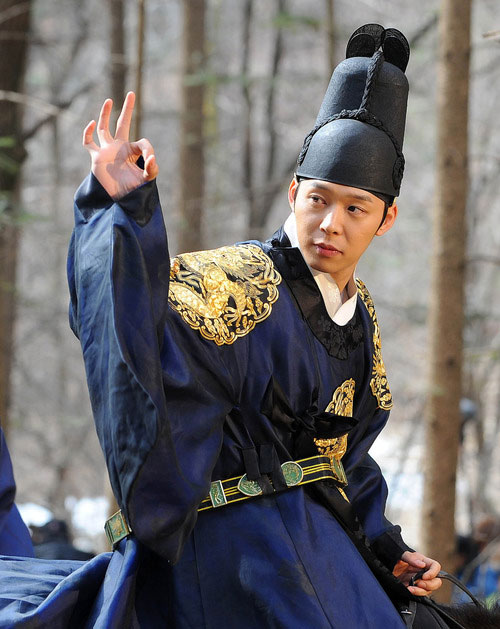 After seeing the reincarnation of crown princess, Se Na (Jung Yoo Mi), he makes effort to make her to become his woman again. He buys the bracelet preferred by Park Ha to give to Se Na as surprise gift and other 'Joseon version of proposing' is shaking the heart of Se Na.
In addition, in order to retain Park Ha who is preparing to go to United States, he buys the painting of tropical beach for Park Ha who loves tropical beach and coconut trees. He stops the bus to airport, and tells Park Ha in the bus, "Now there is tropical bus, it's unnecessary to go to such faraway place," and pulls the hand of Park Ha to alight from the bus. These courageous scenes have been portrayed perfectly.
Through Rooftop Prince, Park Yoochun's acting has been getting a lot of love and praises at the same time. Park Yoochun who has accumulated internal strength of acting skills through the dramas 'Sungkyunkwan Scandal' and 'Miss Ripley' displays the higher lvel of acting skills, attracting the attention of audience. He who the acting been re-appraised through Rooftop Prince is impressive.
via Osen