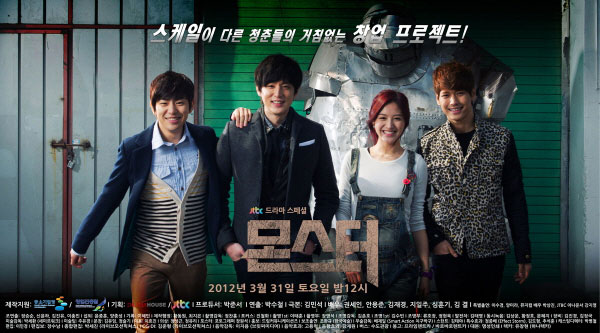 Drama Title: Monster
Korean Title: 몬스터
Romanization: Mon-seu-teo
Chinese Name: 怪物 / 怪獸
Japanese Name: モンスター
Genre: Drama
Episodes:
Broadcast Place: South Korea
Broadcast network: JTBC
Broadcast period: 31 March 2012
Language: Korean
Air time: Saturday and Sunday 12:00 AM
Preceded By: –
Followed By: –
Plot Summary / Synopsis
The drama tells the story of a group of young people who work towards launching a business and achieving success.
Ahn Yong-joon is a very intricate person who concentrates greatly on what he is interested in, but shows stupidity at the most important timing.
Cast
Ahn Yong Joon (안용준) as Jang Pan Soo (장판수)
Kim Jae Kyung (재경) as Na Yoo Mi (나유미)
Kwon Se In (권세인) as Cha Eun Oh (차은오)
Ji Il Joo (지일주) – Yoo Shi Joon (유시준)
Production Credits
Director: Park Soo Chul (박수철)
ScriptWriter: Kim Min Suk (김민석)
Official Site
Official Photo Gallery
Official Behind the Scene (Making) Videos
Monster Trailers: Teaser Trailer 1 | Teaser Trailer 2
Watch online with English subtitle (not yet available).
Watch online with Chinese subtitle (not yet available).
Photo Gallery