Actress Han Ga In experienced harsh suffering attracted the audience's attention, the ratings of The Moon that Embraces the Sun rise again.
The rating for episode 9 of The Moon that Embraces the Sun is 34.5% (AGB Nielson Media Research, national average), setting the highest record. In the drama, Han Ga In put her hand on the forehead of Lee Hwon (Kim Soo Hyun), and then is locked into the secret chamber, experiencing agony.
Because of been held in the secret chamber, Wol (Han Ga In) is fearful, and her childhood memories of been buried in tomb and losing her mother resurrected, and she sheds emotional tears.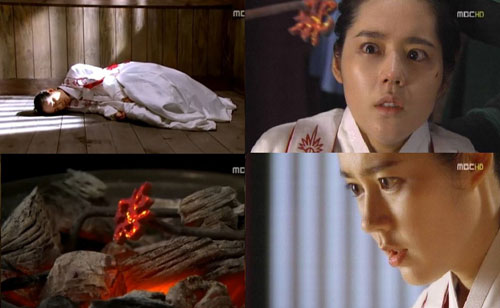 Eventually, at the critical juncture when Wol is about to receive the punishment of been ironed and branded on the forehead, Lee Hwon dramatically issues a decree to call off the punishment, allowing Wol to avoid the crisis. Wol is tasked to be a shaman who absorbs adversity again, at the same time, Lee Hwon is showing the earnest feeling of miss in his eyes.
The suffering of Wol is staged in the drama in quick succession, and Han Ga In is portraying the scenes with delicate and sensible acting. In The Moon that Embraces the Sun, the acting of Han Ga In who doesn't stint her body and works hard moved the audience.
After the broadcast, viewers commented on the message board, "Han Ga In suffering makes the drama worth watching, the ratings also rose sharply," "Han Ga acting getting better," "It's wise to let Han Ga In plays the role of Yeon Woo," "Han Ga In immerses into performance today," and so on.
In addition, the episode 9 of The Moon that Embraces the Sun depicts Wol who has a deep suspicion on herself. The episode 10 is broadcast on February 2nd, 2012 at 9:55pm.
via Chosun