Your Rating
The full album of Glory Jane (Man of Honor / Young Love Jae In) OST (original soundtrack) album has been released on December 7th, 2011. Together with the full OST album, two new song tracks have been released. Both songs are sang by different artists.
The first song is "My Love" which is recorded as the 5th song in the OST. My Love is sang by No Brain (노브레인). My Love is also the title track for the Glory Jane OST.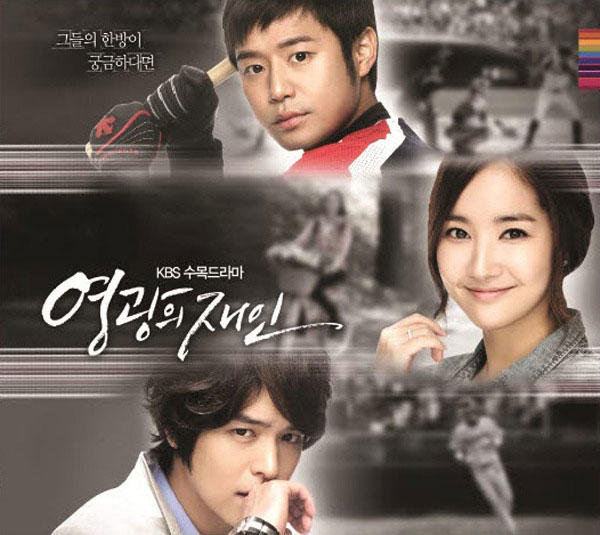 Glory Jane (Man of Honor) OST Track List
Three Kinds of Wishes (세가지 소원)
Because to Me, It's You (내겐 너니까 ) – Hyo Rin (효린)
Heartburn – Bobby Kim
It's Because of Love (그게 사랑이라서) – Jang Hye Jin (장혜진)
My Love – No Brain (노브레인)
Love You – Park Sovin (박소빈)
Opening of Glory Jane (영광의 재인 오프닝)
2 Out at the End of Ninth Round (9회말 2아웃)
Girl's Dream (소녀의 꿈)
Heart Darker Than Night (밤보다 어두운 마음)
Run Kim Young Kwang (달려라 김영광)
Happy Happy
Do You Believe in Love (사랑일까요)
Betrayal and Ambition (배신과 야망)
Rival (라이벌)
Love the Second Movement (사랑 2악장)
Trauma (트라우마)
Get Up and Try for the Eighth Time (칠전팔기)
Dark Shadow (어두운 그림자)
The Day of Glory (영광의 그날)
Toward Hope (희망을 향해)
Listen to My Love at YouTube.
My Love Korean Lyric (with Romanization Pronunciation)
와라차차 날 사로잡은 그녀
walachacha nal salojab-eun geunyeo
누구보다 사랑해 줄 꺼야 어어
nuguboda salanghae jul kkeoya eoeo
그 무엇도 내 맘을 막을 수는 없네
geu mueosdo nae mam-eul mag-eul suneun eobsne
주저앉아 더 이상 멈추지마
jujeoanj-a deo isang meomchujima
넘어져도 내일은 다시오니까
neom-eojyeodo naeil-eun dasionikka
그 무엇도 내사랑 막을 수는 없네
geu mueosdo naesalang mag-eul suneun eobsne
yeah – 하고 소리 쳐봐
yeah – hago soli chyeobwa
yeah – 이젠 용기 내봐
yeah – ijen yong-gi naebwa
더 이상 숨지 않아 내 맘을 고백 할 꺼야!
deo isang sumji anh-a nae mam-eul gobaeg hal kkeoya!
Oh my lover 달려 갈께!
Oh my lover dallyeo galkke!
내 꿈을 찾아서, 찾아서 더 높이. 꿈을 향해
nae kkum-eul chaj-aseo, chaj-aseo deo nop-i. kkum-eul hyanghae
Oh my lover 뛰어 갈께!
Oh my lover ttwieo galkke!
나의 숨소리가. 숨소리가. 네 맘에 전해지기를. 너에게
naui sumsoliga. sumsoliga. ne mam-e jeonhaejigileul. neoege
Oh my lover 달려 갈께!
Oh my lover dallyeo galkke!
내 꿈을 찾아서, 찾아서 더 높이. 꿈을 향해
nae kkum-eul chaj-aseo, chaj-aseo deo nop-i. kkum-eul hyanghae
Oh my lover 뛰어 갈께!
Oh my lover ttwieo galkke!
나의 숨소리가. 숨소리가. 네 맘에 전해지기를. 너에게
naui sumsoliga. sumsoliga. ne mam-e jeonhaejigileul. neoege