The North Korean officers of The King Two Hearts fascinated by the charm of Girls' Generation (SNSD), provoking laughter.
After the "Hyun Bin craze," in episode 3 of MBC drama The King 2 Hearts, the debut of Girls' Generation is making Ri Gang Seok (Jung Man Sik) lost his mind, provoking laughter.
In the 1st episode, Ri Gang Seok criticized after seeing SNSD, "Already so big, still baring the legs?" But in episode 3, he unwittingly fell into the charm of SNSD. He secretly watches the MV of Tell Me Your Wish in the room. He has determines to turn off the TV originally, but cannot control himself, and in the end even dances to the tune.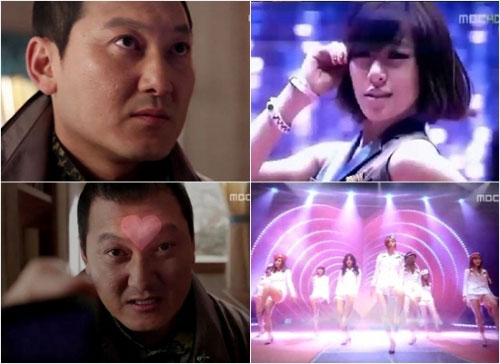 Ri Gang Seok tells Kim Hang Ah (Ha Ji Won), "From that day onwards, the legs of those girls never left my mind. I jumped into the stream, to relieve the pressure, but it did not work, I'm almost crazy." While Kim Hang Ah said, "You're such a big man still stuck by beautiful girls. But those kind of people is nothing meaningful, the name is also a mystery, what's Tiffany," the worlds made audience could not help but laughed.
In the first episode, when Ha Ji Won saw the Hyun Bin, Jo In Sung and other actors whom she used to cooperate with, she also shows extraordinary favor, full of funny effects.