Super Junior member Lee Sung Min (이성민) is singing the 2nd part of OST (original sound track) for KBS2 TV drama series Sent From Heaven (aka I Need a Fairy), with the title of the song takes the name of "Oh Wa." The I Need a Fairy OST part 2 is released on March 29th, 2012.
Oh Wa is the ending theme song for Sent From Heaven drama series.
The song Oh Wa is the first solo song released by Sungmin in South Korea. Oh Wa is composed by famous musical director Hwang Sang Joon who also produced the OST for TV series God of War and movie Dancing Queen, and written by Mun Du Li.
The song has a bright lyric that is full of hope, conveying energy that is full of vitality. The upbeat melody coupled with sensible voice of Sungmin perfectly produce an attractive song.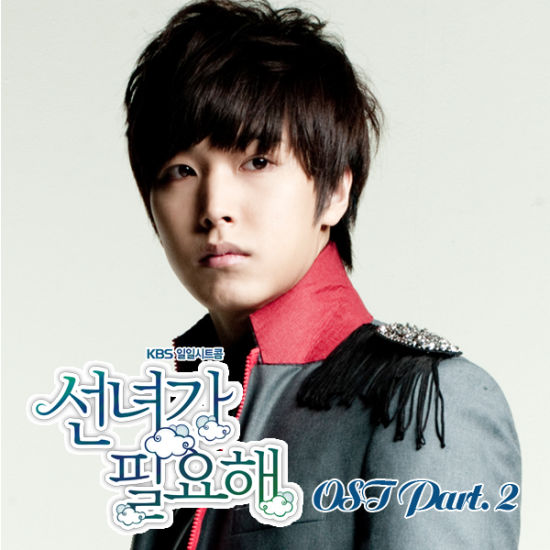 Sent From Heaven (I Need a Fairy) OST Part 2 Track List
On Wa – Sungmin
Listen to Oh Wa on YouTube.
Oh Wa Lyric
Oh oh oh oh oh oh wa oh oh oh oh wa
두근두근 펼쳐지는 내일
Oh oh oh oh oh oh wa oh oh oh oh wa
Together 이대로 alright
어리버리 하지만
좋아 이것 또한 좋아 oh wa oh(one,two,three,four)
끼리끼리 놀지만
도와 서로 도와 즐거운 꿈을 꿔봐
늘 똑같던 날들 bye bye bye
웃음소린 high high higher yeah
하루하루 매일 새로와
Feeling alright
Oh oh oh oh oh oh wa oh oh oh oh wa
하늘을 가른 웃음소리
Oh oh oh oh oh oh wa oh oh oh oh wa
저 높은 빌딩 사이로
Oh oh oh oh oh oh wa oh oh oh oh wa
두근두근 펼쳐지는 내일
Oh oh oh oh oh oh wa oh oh oh oh wa
Together 이대로 alright
고민고민 하지마
놓아 내려놓아 놓아 oh wa oh (Let's be happy)
눈치코치 보지마
오 와 내게로 와 신나게 떠들어봐
널 둘러싼 구름 bye bye bye
저 태양은 high high higher yeah
함께여서 더 따사로와
Feeling alright
Oh oh oh oh oh oh wa oh oh oh oh wa
두근두근 펼쳐지는 내일
Oh oh oh oh oh oh wa oh oh oh oh wa
Together 이대로 alright
빠르게 변하는 세상 속에서 오
웃고 울고 나누면서
언제라도 내게로 와
Oh oh oh oh oh oh wa oh oh oh oh wa
내게로 와 oh wa
Oh oh oh oh oh oh wa oh oh oh oh wa
Let's get it started yeah
Oh oh oh oh oh oh wa oh oh oh oh wa
하늘을 가른 웃음소리
Oh oh oh oh oh oh wa oh oh oh oh wa
저 높은 빌딩 사이로
Oh oh oh oh oh oh wa oh oh oh oh wa
두근두근 펼쳐지는 내일
Oh oh oh oh oh oh wa oh oh oh oh wa
Together 이대로 alright
Oh Wa Lyric Romanization
Oh oh oh oh oh oh wa oh oh oh oh wa
dugeundugeun pyeolchyeojineun nae-il
Oh oh oh oh oh oh wa oh oh oh oh wa
Together idaero allight
eoribeori hajiman
chowa ikeot ttohan chowa oh wa oh(one,two,three,four)
kgirikgiri nol-jiman
dowah seoro dowah jeul-keoun kkumeul kkwobwah
neul ttokkat-deon naldeul bye bye bye
useumsorin high high higher yeah
haruharu mae-il saerowah
Feeling allight
Oh oh oh oh oh oh wa oh oh oh oh wa
haneu-reul kareun useumsori
Oh oh oh oh oh oh wa oh oh oh oh wa
jeo nopeun bilding sa-iro
Oh oh oh oh oh oh wa oh oh oh oh wa
dugeundugeun pyeolchyeojineun nae-il
Oh oh oh oh oh oh wa oh oh oh oh wa
Together idaero allight
kominkomin hajima
noha naeryeonoha noha oh wa oh (Let's be happy)
nun-chigochi bojima
o wah nae-gero wah shinna-ge tteodeu-reobwah
neol du-lleossan gureum bye bye bye
jeo taeyangeun high high higher yeah
hamkkeyeoseo deo ttasarowah
Feeling allight
Oh oh oh oh oh oh wa oh oh oh oh wa
dugeundugeun pyeolchyeojineun nae-il
Oh oh oh oh oh oh wa oh oh oh oh wa
Together idaero allight
ppareuge byeonhaneun sesang so-geseo o
utko ul-ko nanumyeonseo
eonjerado nae-gero wah
Oh oh oh oh oh oh wa oh oh oh oh wa
nae-gero wah oh wa
Oh oh oh oh oh oh wa oh oh oh oh wa
Let's get it started yeah
Oh oh oh oh oh oh wa oh oh oh oh wa
haneu-reul kareun useumsori
Oh oh oh oh oh oh wa oh oh oh oh wa
jeo nopeun bilding sa-iro
Oh oh oh oh oh oh wa oh oh oh oh wa
dugeundugeun pyeolchyeojineun nae-il
Oh oh oh oh oh oh wa oh oh oh oh wa
Together idaero allight
Oh Wa Lyric English Translation
Oh oh oh oh oh oh wa oh oh oh oh wa
Tomorrow unfolds with a pounding heart
Oh oh oh oh oh oh wa oh oh oh oh wa
Together, here and now, alright
I may be young but
I like, I like this also, oh wa oh (one, two, three, four)
We may be playing in group but
Help, help each other and has a good dream
Days that are always the same, bye bye bye
Sound of laughter is high high higher yeah
Day by day, every day is new
Feeling alright
Oh oh oh oh oh oh wa oh oh oh oh wa
The laughter splits the sky
Oh oh oh oh oh oh wa oh oh oh oh wa
Between the tall buildings
Oh oh oh oh oh oh wa oh oh oh oh wa
Tomorrow unfolds with a pounding heart
Oh oh oh oh oh oh wa oh oh oh oh wa
Together, here and now, alright
Do not worry, worry
Put, put it down, oh wa oh (Let's be happy)
Don't persist on old ways
Oh come, come to me and talk excitedly
Clouds that surround you, bye bye bye
The sun is high high higher yeah
It's warmer because we're together
Feeling alright
Oh oh oh oh oh oh wa oh oh oh oh wa
Tomorrow unfolds with a pounding heart
Oh oh oh oh oh oh wa oh oh oh oh wa
Together, here and now, alright
In the fast-changing world
Laugh, cry, we share
Come to me anytime
Oh oh oh oh oh oh wa oh oh oh oh wa
Come to me, oh wa
Oh oh oh oh oh oh wa oh oh oh oh wa
Let's get it started yeah
Oh oh oh oh oh oh wa oh oh oh oh wa
The laughter splits the sky
Oh oh oh oh oh oh wa oh oh oh oh wa
Between the tall buildings
Oh oh oh oh oh oh wa oh oh oh oh wa
Tomorrow unfolds with a pounding heart
Oh oh oh oh oh oh wa oh oh oh oh wa
Together, here and now, alright