Your Rating
The 5th OST (original sound track) for KBS2 TV drama series Dream High 2 is released on February 28th, 2012.
The Dream High 2 OST part 5 includes a song with the title of Painful Hope (아픈희망). The song title is also been translated as Sick of Hope.
The song of Painful Hope is sang by Lee Ki Chan (이기찬). The song is composed by Hong Ji Sang, and written by Hong Ji Sang and Park Jin Young.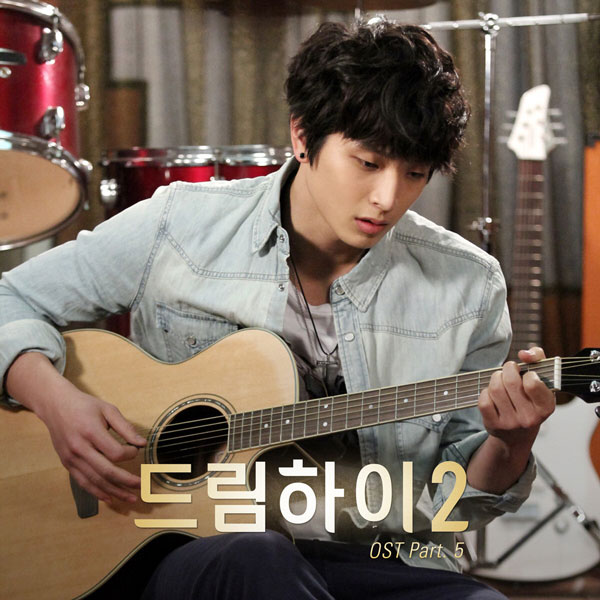 Dream High 2 OST Part 5 Track List
Painful Love (아픈희망) – Lee Ki Chan
Listen to Painful Love (아픈희망) at YouTube.
Painful Love (아픈희망) Lyric
빗나가는 화살처럼 내 마음이 닿지가 않아
보고 있어도 매일 보고 있어도 너는 다른 곳만 바라보는 걸
그런 널 원망 해봐도 내 맘을 지우려 해도
니가 밉지가 않아 지워지지가 않아 계속 너만 생각하고 있어
매일 매일 곁에 있고 싶은데 사랑하고 싶은데
왜 이렇게 서로의 맘이 다른 건지 왜 나만 그렇게 널 원하고 또 원하는지
내일 내일 이면 혹시 내 맘이 전해 질지 모른단
아픈 희망으로 나를 마취하며 겨우 겨우 이렇게 또 하루를 넘기고 있어
너만 바라보고 있는 내 모습이 한심해서
매번 마음속으로 소리를 쳐보아도 계속 너만 생각 하고 있어
매일 매일 곁에 있고 싶은데 사랑하고 싶은데
왜 이렇게 서로의 맘이 다른 건지 왜 나만 그렇게 널 원하고 또 원하는지
내일 내일 이면 혹시 내 맘이 전해 질지 모른단
아픈 희망으로 나를 마취하며 겨우 겨우 이렇게 또 하루를 넘기고 있어
Painful Love (아픈희망) Lyric Romanization
binna-ganeun hwahsalcheoreom nae ma-eumi dah-ji-ga anha
bogo isseodo mae-il bogo isseodo neoneun dareun gonman paraboneun geol
keureon neol won-mang haebwahdo nae mameul ji-uryeo haedo
ni-ga mib-ji-ga anha jiwojiji-ga anha kyesong neoman saenggakha-go isseo
mae-il mae-il gyeote itko shipeunde sarang-ha-go shipeunde
waeh ireohke seoroye mami dareun geonji waeh naman geureohke neol wonha-go tto wonhaneunji
nae-il nae-irimyeon hokshi nae mami jeonhae jil-ji moreundan
apeun hyimangeuro nareul machwiihamyeo kyeou kyeou ireohke tto harureul neomgigo isseo
neoman parabogo i-nneun nae moseubi hanshimhaeseo
maebeon ma-eumso-geuro sorireul chyeobo-wado kyesong neoman saenggag ha-go isseo
mae-il mae-il gyeote itko shipeunde sarang-ha-go shipeunde
waeh ireohke seoroye mami dareun geonji waeh naman geureohke neol wonha-go tto wonhaneunji
nae-il nae-irimyeon hokshi nae mami jeonhae jil-ji moreundan
apeun hyimangeuro nareul machwiihamyeo kyeou kyeou ireohke tto harureul neomgigo isseo
Painful Love (아픈희망) Lyric English Translation
Like an off-target arrow, my heart cannot reaches you
I look at you, even if I look at you every day, you only look at other place
Even if my heart is worry about such a resentment
I don't hate you, I can't erase you, I continue to think of you
I want to be close to you every day, I want to love you
But why are our hearts so different with each other? Why I am the only one who wants and wants you?
Tomorrow's tomorrow, may be you will hear my heart
I inject myself with the painful hope, and I can barely live another day like this
Me who only looking at you is so embarassing
Every time, I try to voice in my heart, but I keep thinking of you
I want to be close to you every day, I want to love you
But why are our hearts so different with each other? Why I am the only one who wants and wants you?
Tomorrow's tomorrow, may be you will hear my heart
I inject myself with the painful hope, and I can barely live another day like this