Park Ji-yeon made public the behind the story of Dream High 2.
Park Ji-yeon is playing the role of idol Ryan who dreams of becoming the Queen of Cannes, but lack of acting skills in KBS 2TV drama series Dream High 2. She was talking some time from her busy shooting schedule for the interview.
For the question of what is her feeling during the filming process of Dream High 2, Jiyeon answered, "There are a lot of same-age friends, the set is full of vitality. In the position of the audience, also think that it will be very interesting. In the future, we will present even more interesting content, so stay tuned."
In addition, about the fashion of Lian in the drama, Ji Yeon said, "In order to create the ornate style of Lian, spending a lot of thought on even small accessories such as crown headdress or kitty mirror. The makeup method of Lian who features thick eyeliner has also been a concern, feeling very good," expressed her satisfaction.
Then, on the most intimate partner Kang So Ra, Ji Yeon said: "Sister So Ra gave me a lot of care and concern, always sent me 'the schedule is so busy, must careful of body' this kind of short message. When tired, she gives me a lot of strength," boasting about the strong team strength.
For love line, Jiyeon said, "Every time shooting TV series, I always play the role of unrequited love, and hope this time the love will come to fruition." As for the harmonious acting with JB who is playing opposite her in the drama, Jiyeon said: "We're of same grade, there are a lot in common, so we become close. The cooperation is also very understanding and very comfortable. We are good friends!"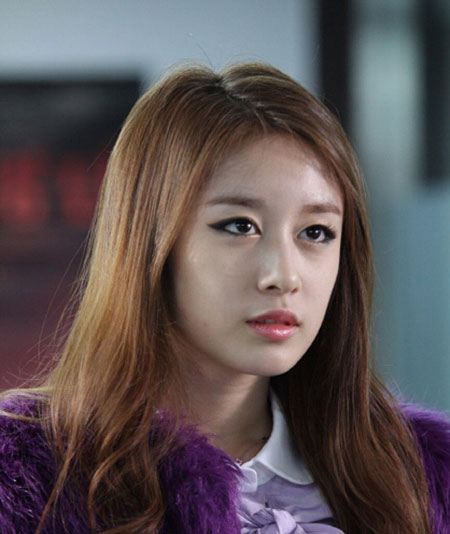 The scene which left her with deepest impression is the imitation scene and the bad acting scene. She said, "Remaking the scene of Suzy in Dream High 1 and the scene which holding a sword to fight that show the lousy acting of Lian, often provoked the laughter, I find it very interesting."
Then she said, "The scene of back kick towards sister So Ra is also very interesting, long time does not do it, always handled the angle badly. Now I am Taekwondo black belt 3rd rank, hope can seriously practice again, to get to 4th rank."
In the narration of the desire of teenage girl, the interview ended.
via MyDaily