In the new KBS's Wednesday and Thursday drama, Glory Jane (aka Glorious Jae In), Choi Myung Gil and Park Min Young appear with a shockingly untidy tousle, attracting interest of audience.
In the drama, Choi Myung Gil plays Park Goon Ja who is a strong and tenacious mother that can even says foul words easily, while Park Min Young plays Yoon Jae In who is a lively assistant nurse even in distress.
In the first episode, Park Min Young went to the police station with Choi Myung Gil in a depressing mood with bruises on her face, which is also tainted with blood, while Choi Myung Gil was inserting a roll of tissue into her nostril trying to stop the nosebleed. Both of them appeared in a untidy, unkempt, disheveled and messy hair, which is unprecedented in their acting career.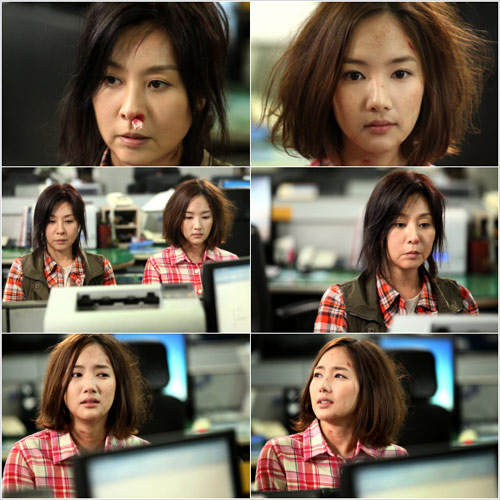 Most actresses loathe to shoot such a scene due to its unglamorous image. However, Park Min Young and Choi Myung Gil didn't hesitate to do the makeup and had even tried to make their hair looked more messy. It's reported that they liked each other's funny face and burst into laughter occasionally.