Park Min Young, Chun Jung Myung and Lee Jang Woo will show fierce fighting in three colors to apply for the job.
In episode 7 of Glory Jane (Man of Honor) broadcast on November 2nd, 2011, Park Min Young, Chun Jung Myung and Lee Jang Woo appear at the venue of Great Trading Company recruitment fair with the same interview identification card, and ultimately who will enjoy exclusively the happiness of "interview success," has lead to wide audience's expectation. Chun Jung Myung who always failed his interview, because of the intertwined conflict between his sense of responsibility as the head of family and injured self price, so his look very excited and full of fight. And the sky-blue shirt with a narrow gray-twill tie, showing the solemn side of Jung Myung.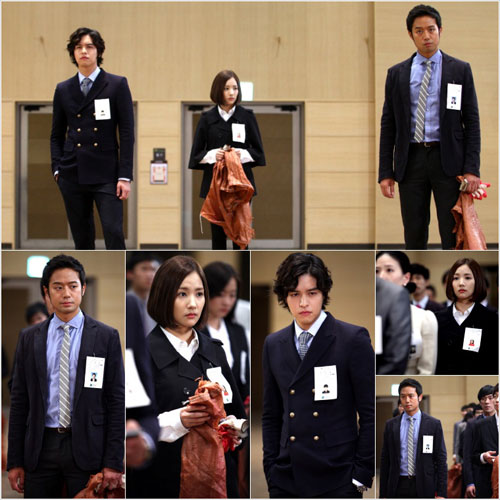 Park Min Young whose path to find a job is especially hard, shows expression of anxiety and worry for the interview. Park Min Young wore white shirt, and put on a black dress coat, complete a dignified "interview" dressing. This black and white mix is said to be the standard interview dress for job seekers.
Lee Jang Woo has to bring along his dissatisfaction from been forced to end his baseball career to work in Great Trading Company to the interview venue. As a successor to Great Trading Company, who is also the wealthy son of chairman Seo Jae Myung, Lee Jang Woo wore a branded jacket with decorated with gold plated buttons, coupled with branded tie, showing his rich second-generation charisma.
The set of scenes was shot on last October 24, 2011 in Sindorim-dong, Seoul. In order to fully show the atmosphere of the interview venue, the filming mobilized more than 150 extras. In the shooting that lasted from 10 am to 10 pm, the three of Park Min Young, Chun Jung Myung and Lee Jang Woo and all other actors had displayed the interview scenes that full of tension.
In the last episode, Chun Jung Myung take up the responsibility of his father as head of family, gave up baseball career and rushed to the front line of job seeking. Park Min Young also resigned from her nurse job in the hospital, and put in tireless efforts on finding a new job. Whether they who show the spirit of "880 thousands won generation" (indicates average salary in competitive job market faced by current Korean young generation) can successfully pass the first hurdle of Great Trading Company interview before success, has became the focus of attention of the audience.
Producer said, "Chun Jung Myung, Park Min Young and Lee Jang Woo three persons as the main leads of Glory Jane, has also 100% put themselves into the drama filming, and continuously received well praises. Next three of them will show even complex and delicate acting in the complex and tangling fate. For the wonderful change of acting of three of them, hope that everybody can support."
In addition, in the 7th episode, Park Min Young is having opponent play with Lee Jang Woo as her personal nurse. Park Sung Woong becomes the last trump card of Park Min Young, and starts the full revenge on Son Chang Min. How is relationship between Park Min Young and Lee Jang Woo going to develop, and whether Lee Jang Woo will recognize Park Min Young whom he had seen 17 years ago, all questions will be answered in the following episodes.
via TVReport