In the episode 10 of Glory Jane (Man of Honor), Park Min Young is playing a scene where she is hiding under the plastic pot, revealing only a small part of her face.
When comparing with the huge red plastic pot, the face of Park Min Young appears to be particular delicate and exquisite, and the delicate facial features are even more prominent, the cute charm is irresistible.
Park Min Young is hiding under a huge red plastic basin, and uses the lovely expression that likes a wizard to investigate the movement around her, causing people to be more curious about why she is hiding inside the plastic basin.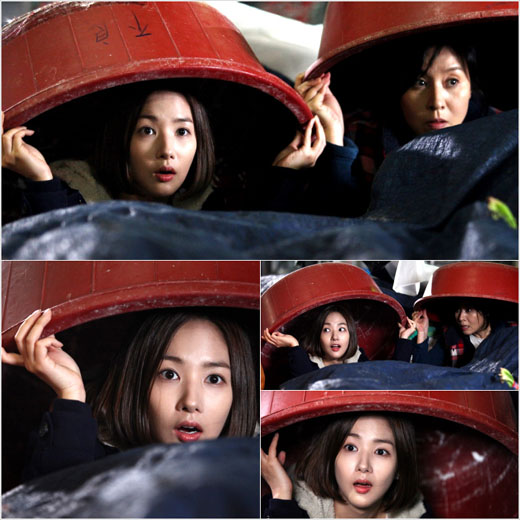 The set is not set in the script initially, the plastic basin was found accidentally when the production crews searched for something on the filming set that can be used to cover complete body of Park Min young, and thus achieved such a lovely scene which is full of delight.
The scene was shot on November 3rd, 2011 at a market in Cheongju city of Chungcheongbuk-do province. During the process of filming, the staff crews on the scene were surprised when Park Min Young the plastic pot that is much bigger than her petite body.
Producer said, "After Park Min Young transformed into "absolutely positive girl" Yoon Jae In, her index of charm raises continuously. Please look forward to the sweet but tangled love story between Park Min Young and Chun Jung Myung which going to start soon."
via Osen