JYJ's Park Yoo Chun said that he can endure the hardship during filming when he looks at Han Ji Min.
SBS's "Good Morning" program broadcast on April 18th, 2012 came to the filming scene of "Rooftop Prince", and captured the happy moment of Crown Prince and his three officials.
In the program, to coordinate with the filming, Park Yoochun who is playing the role of Lee Gak ate sausages at a corner, and said, "This is the first meal I have in 2 days." Later he looked at the plate full of sausages and went on to say, "Really like a big fish." He offered the sausages to the staff crews, displaying his attentiveness.
When asked how could him put up with such a hard schedule which unable to sleep and eat, Yoochun answered, "Sister Han Ji Min." The subtle answer aroused the curiosity of the audience.
Yoochun explained, "The filming of sister Han Ji Min is more than me, whenever I think of sister Han Ji Min can hold on, I feel very lucky."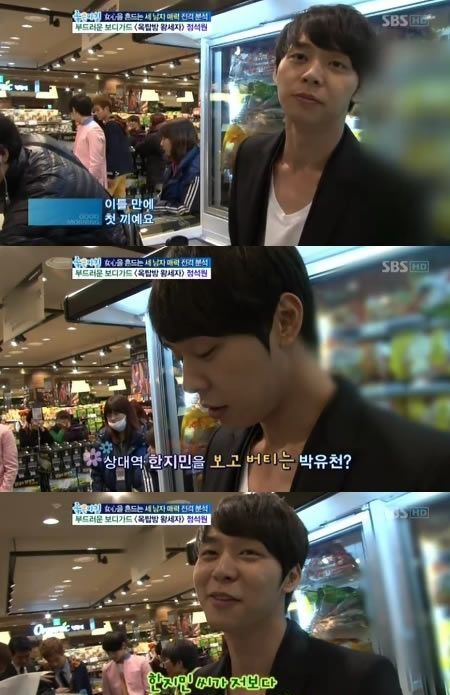 At the same time, Han Ji Min said, "Choi Woo Shik who plays the role of Do Chi San looks like a series person, but he is the one bring us most laughter. And also because of atmosphere maker Jung Suk Won, I also NG a lot of times."
A lot of actors in "Rooftop Prince" NG when acting with Jung Suk Won, but thanks to this, created a warm shooting atmosphere which is full of laughter.
via Nate