Actor Micky Park Yoochun responsed wittily to a harsh question, causing a burst of laughter.
On the afternoon of March 5th, 2012, Park Yoochun attended the production press conference of SBS new Wednesday and Thursday drama series Rooftop Prince held at Lotte Hotel at Jamsil, Seoul. On the production press conference, reporter asked "What's the differences with Lee Seung Gi?" Park Yoo Chun answered, "Imperial robe," attracted the attention. Park Yoochun and Lee Seung Gi will soon starring in the SBS's Rooftop Prince and MBC's The King 2Hearts, the new Wednesday-Thursday dramas that began airing on March 14, 2012. As such, the two persons about to start a ratings Competition of self-esteem.
Park Yoochun said, "Our differences lie in imperial robes, this year is the Year of the Dragon, so if often wear imperial robe, then there should be a blessing." Then he said confidently, "I do not know the king played by Lee Seung Gi has what kind of character, but the Lee Gak I played is the role who is charismatic and very gentle in front of love. I feel that by just relying on the gradual change of the character who used to has no shortcoming in the drama, will let the audience closer to it."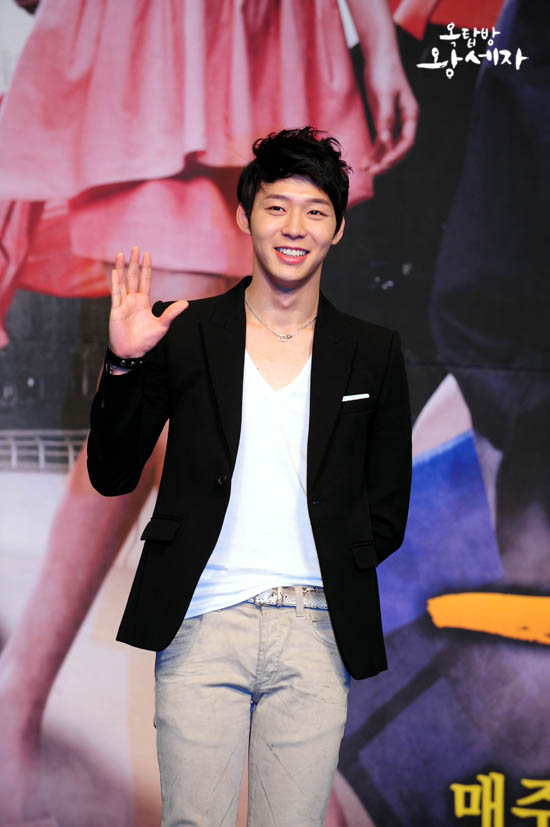 Rooftop Prince depicts after prince Lee Gak (Park Yoochun) lost his beloved crown princess, he travels through time, advancing 300 years together with his ministers to 21st century Seoul. In addition of Micky Yoochun, Han Ji Min, Lee Tae Sung, Jung Yoo Mi and others also starring in the drama. Rooftop Prince will take over the slot of Take Care of Us, Captain, and debuts on March 14th, 2012.
via Joongang Daily