Q: Really too much. Went a long way in getting rid of the the 'Hwon syndrome' (referring to obsessing about Lee Hwon in The Moon that Embraces the Sun), and now began to look forward to Lee Gak (Park Yoochun) in SBS' Rooftop Prince. From smacking the lips to eat omelet rice to whipped cream, yogurt, once I look at him, I feel very lovely, still feel hungry after eating in full? Crown prince who thought to do not know anything, ignorant of common things and furious, just because of remembering the words of Park Ha (Han Ji Min) that 'when tired of earning money, will look at the photo of tropical coast,' will romantically specially bring the painting of romantic coast as gift. High Highness who has outstanding appearance and cut short the hair, is indeed very sweet, and commendable! (Imitate the way crown prince eating)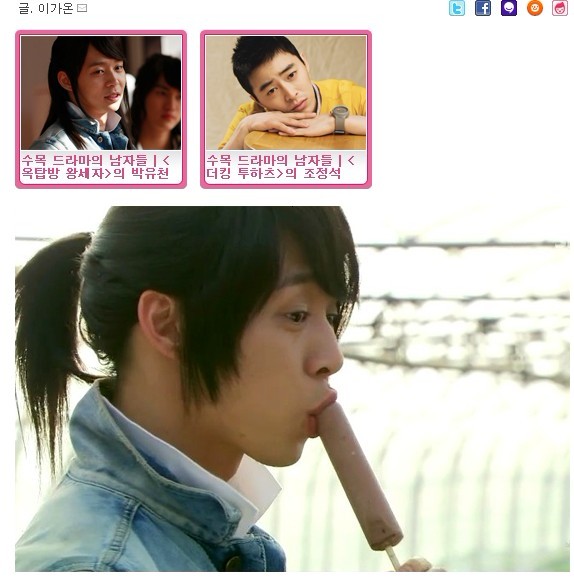 Doctor's Prescription:
Beginning from he buried his head to eat leftover tomato sauce on the plate of omelet rice, the majestic of the crown prince has boarded the time machine once again to travel back to 300 years ago. Just then he was still missing the dead concubine, but the next second, he said because of a plat of omelet rice, "Ome..let..rice, let me felt happy coming to his place for the first time," and even smiled contently. When Park Ha seizes on his weakness of shedding tears, requesting him to say with a low voice, "Treat soda and eggs, "how much ↘ it ↗ costs ↗?" But the real reason for patient to feel that Lee Gak is sweet and very unique is he breaks away from the principle which he has insisted on for life for the sake of beloved woman to become brave. In order to retain Park Ha, he cuts short his hair decisively without regards to the dissuade from his confidants. Man, especially a crown prince of a country, suddenly changes his hairstyle, it's not a matter that easy to decide on. Lee Sun Joon in KBS' Sungkyunkwan Scandal" is also such a man. He uses a trembling voice, grabbing the shoulder of Yun-Hee (Park Min Young) and said, "I who only takes the existing road, who only acts according to principle, who originally thought that etiquette is everything in this world, is falling in love with you," confessing his heart. That strict scholar and perfect crown prince before meeting their beloved women, these two men has spent how many efforts to break the frame that restrains them? In the world, they're willing to withstand the accusations but also want to protect the beloved woman, want them to be happy, such a heart is the sweet and unique feeling.

Of course, if do not watching the motion picture, and only see the still image, will also feel that it's not enough even if viewing for 24 hours a day. This is Park Yoochun. The head is very small, even the skin is like skin of baby, but why the shoulders are so wide, and has a straight clavicle which hard to possessed by even women, that's why he is been referred as 'collarbone handsome boy.' When recalling the moment of the shoulder of Sun Joon in Sungkyunkwan Scandal injured and applied with bandage, the moment of Yoon Hee who sat under the tree studying falls asleep lying on the shoulder of Sun Joon, isn't it the charm of man which is unimaginable by just looking at the face? No wonder JYJ member Kim Junsu said, 'Now says some advantage / Yoochun has a lot of strong points / Yoochun is very thin, but the shoulders are very wide / forehead is also very wide / like emitting bright light.' Is it a rap? Give an impeccable visual effect, when looking, the whole body is tickling. Pushing into Korea, pushing into Japan, sometimes with physical force when feeling bored. Park Yoochun who has fun heartily in the drama imitates the hairstyle of Yuchun is truly a genius. As a member of the group for 8 years, it's a piece of cake comparing with the degree of the patient. So don't force to exit from "Lee Gak syndrome," because it's impossible.
via Asiae