The PD of The Moon that Embraces the Sun expressed appreciation to the actresses.
On the early morning of March 10th, 2012, director Kim Do Hoon tweeted through Twitter, "Teacher Great Empress Dowager Kim Young Ae, under the situation of feeling discomfort physically, she did not panic afterwards, was still continuing to perform, really want to thank her. Despite the condition of physical discomfort, she still able to interpret the role perfectly, really is an acting that deserved the reputation. These words of gratitude cannot be expressed in language."
Then, PD Kim Do Hoon said, "Mi Sun, you've worked hard. Really sorry for having to shoot in cold weather. No matter it's Yoon Seo in Royal Family or Nok Young in The Moon that Embraces the Sun, you've performed perfectly. Really happy for been able to film together with you this time, sincerely thank you."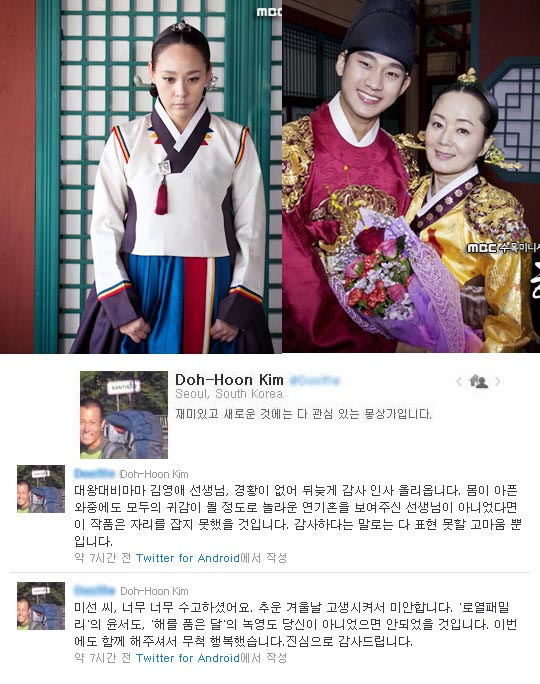 The role of Kim Young Ae is the central figure of consort clan standing opposite to Lee Hwon (played by Kim Soo Hyun), and has engaged in intense war of words with the master of palace Lee Hwon. Meanwhile, the role of Jun Mi Sun is the only person who knows the ins and outs of the mysterious death of Yeon Woo, her double face when treating Yeon Woo and people in palace has been well received.
Both persons also by sheer luck also starred in another PD Kim Do Hoon drama, MBC TV series Royal Family, which had also achieved high viewership ratings. The appreciation by PD Kim Do Hoon is even more touching.
Meanwhile, the last 2 episodes of The Moon Embracing the Sun scheduled on March 7 and 8 were canceled due to strike, and instead will air on coming March 14 and 15 of 2010 to usher in the grand finale.
via TVDaily