On February 15th, the video preview for episode 13 of MBC TV series The Moon that Embraces the Sun released via official website attracted the attention of netizens.
According to text preview, Hwon (Kim Soo Hyun) collapses when about to consummate with Bo Kyung (Kim Min Seo), triggering an emergency. Bo Kyung claims that Hwon insulted her, and together with Yoon Dae Hyung plot to persecute Wol and damage the reputation of Hwon.
The plot is soon put into action in the form of framing and torturing. In the video, Wol (Han Ga In) is tortured on charges of regicide sinner, Yang Myung (Jung Il Woo) and Hwon talk face-to-face, who is the man who will receive the love of Wol? When Hwon arrives at the place of execution, Wol is suffering beating, the wooden sticks that are hobbled around Wol's legs shocked them. The suffering of Wol in the video preview brought a sense of shock and terror to audience.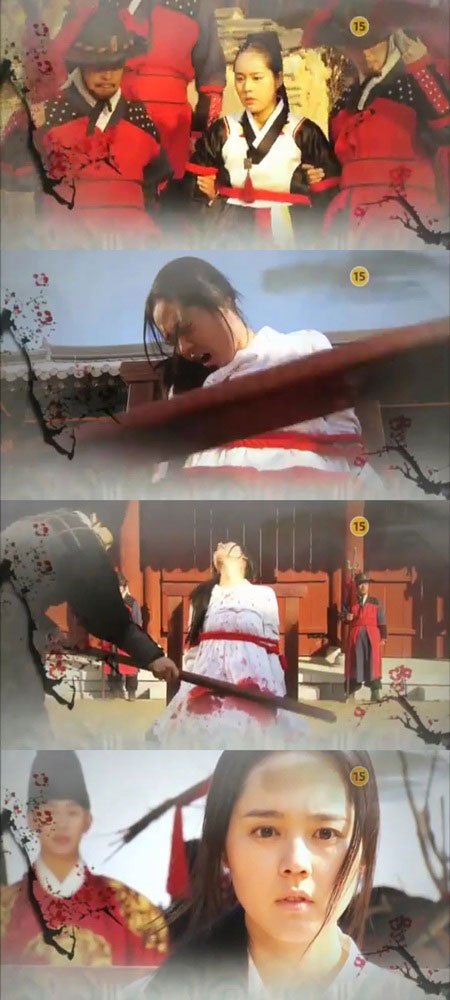 Related to this, Han Ga In said on the production press conference of movie Introduction to Architecture held on February 13th, 2012 at Seoul Lotte Cinema that, "Now the TV received a lot of attention, so currently feel very tension comparing any other time, so it's reasonable to shoot overnight everyday."
But in the video released for episode 13, Hwon who wants to protect Wol and furious Yang Myung finally start the dramatic confrontation. Both of them has showed the love to Wol at its initial place, causing tension on the story development, and deepen the audience's expectations.
Netizens who were waiting for the preview said, "It's too much to frame with stick," "In original novel there is no such torturing setting," "What to do Ga In, Wol is pulled away, what's Hwon doing," "The time of losing memory is too long," "Yang Myung finally confronts Hwon," "It's so hurt," and others.
via Chosun