The viewers' evaluation for the two actor and actress in leading roles of hit TV drama series A Thousand Days' Promise has shown a sharp contrast.
On the one hand, the real acting by the heroine Soo Ae has earn unanimous praises from viewers, but on the contrary, the lead actor's performance has been criticized as hindering te viewers from immersing into the plot.
Soo Ae is playing a woman who is suffering from Alzheimer's disease when just turned 30. She perfectly interprets the distinctive lines by screenwriter Kim Su Hyun which are long and hard to understand, smoothly and naturally speaks the dialog lines of genteel nature, attracting people's attention. As a woman who suffers from terminal illness at young age, and has to endure the pain of keep losing the sweet memories with lover, Soo Ae shows the grief of the leading female character just right, where it doesn't appear to exaggerated nor artificial, yet doesn't let people feels boring and powerless. Viewers have assessed the acting as the "best acting", full of praise.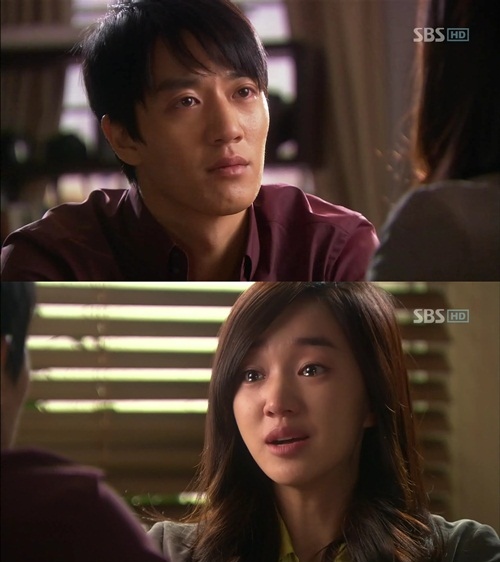 However, the performance of Kim Rae Won is deviated from the script's character setting of "innocent man," rigidly interprets the role to become a abruptly became the interpretation of the role of a "hateful man."
As easy as before the debut of the TV series, there was rumor that Kim Rae Won violently assaulted a waitress at a nightclub, causing his image to significantly reduced. After the drama is broadcast, the unnatural acting of him in the drama also does not please the viewers. As a man caught in between two women, Kim Rae Won should have shown the mental activity of the character through delicate acting, but instead he interprets the emotions through exaggerated expressions, causing people to feel quite artificial. Furthermore, there is even news about the exorbitant performance fee he received for acting in the drama, letting many people felt unfortunate, as they think that his acting unworthy of the name. Facing with different evaluation of viewers to lead actor and lead actress, production team is puzzled, completely at loss of what to do.
A relevant source said, "By right a drama that has high ratings, definitely the male and female leads of the show are loved by viewers, but A Thousand Days' Promise is very strange, the appraisal of the viewers to male and female leads shows extreme polarization, it is confusing. Now the crews are cracking their brains to see how to mold the actor into a charming man with innocent and pure love."
via JoongAng Ilbo