Just airing for few episodes, the Protect the Boss Korean drama has managed to rank top as the most downloaded video on the Conting video downloading site. Conting is a legal video download site formed by the three Korean public stations KBS, SBS, and MBC to allow legal download of their content.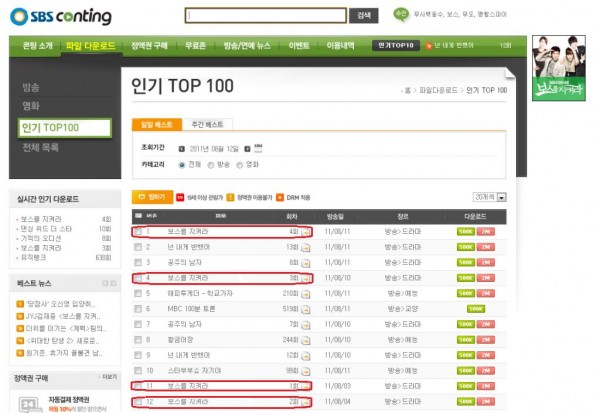 Protect the Boss, starring by Choi Kang Hee, Ji Sung, Hero Kim Jae Joong and Wang Ji Hye, received the most impression hits right after episode 4 finished airing. It was then the most downloaded drama for all time slots for all 3 stations, with episode in first place, and the rest of the episode 1, 2 and 3 ranked in 4th, 11th, and 12th place, making it the most downloaded drama of the week. Although the ranking of earlier episodes have been dropping as the weeks progress, the newest episode is constantly remains on top.
The Protect the Boss K-drama has also managed to briefly climb to the top spot of viewership rating in the Seoul area during the broadcast of 3rd episode, before dropping to 2nd slot on 4th episode, according to TNmS. Nonetheless, it's just a matter of time before Protect the Boss clinches the title of top ranking drama consistently, officially claims the title of the most watched drama in Seoul area, and probably whole South Korea.
In addition to be the most downloaded drama series, Protect the Boss is reported to be the most searched tags on Chinese video sites too. Due to its immense popularity, most of Asia, including Japan, Taiwan, Singapore, Malaysia, Indonesia, Thailand, Philippines and etc. has expressed their interest in airing "Protect the Boss" in their own countries.