The poor acting of Rian (Park Jiyeon) has became target of teasing by Psy.
In the episode 5 of Dream High 2 broadcast on the night of February 13th, 2012, the month-end evaluation of Kirin Arts Academy is staged. The month-end evaluation is the competitive task of duo team battling in stage performance.
On the day, Rian (Jiyeon) and Shin Hye Sung (Kang So Ra) go up to stage together. But the microphone of Hye Sung cannot be used, so Rian sing on behalf of Hye Sung. But both Rian and Hye Sung are eliminated in the month-end evaluation.
On the other hand, including Park Soon Dong (Yoo So Young) and Jin Yoo Jin (Jung Jinwoon), Park Hong Joo (Kim Ji Soo) and Jung Wi Bong (Jr.) are also eliminated at the month-end evaluation, and are assigned to the poor class.
Rian, Hye Sung, Yoo Jin and others who are assigned to the poor class go for self improvement training. They go to the marine corps education camp where Psy is the instructor.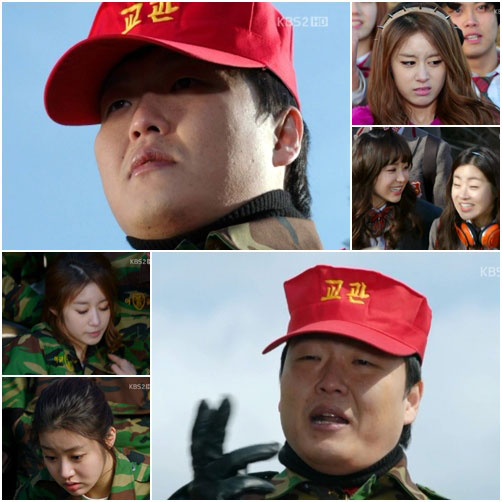 During the training process, Rian suddenly collapsed, causing the worry of Hye Sung, who is shocked and rushed to Rian.
But Psy is teasing Rian, "The acting of Rian does not improve at all. Such a quintessence of lousy acting." Rian embarrassingly stands up and receives additional training, provoking everyone to laughter.
via TVDaily