Kim Min Seo who played the role of Queen Yoon Bo Kyung in the hit Korean drama "The Moon that Embraces the Sun" admitted that she used to envy Han Ga In because of Kim Soo Hyun.
In the KBS 2TV's "Happy Together 3" program broadcast on Thursday, April 12th, 2012, Kim Min Seo confessed, "I ​​am the kind who easily falls into the role, and cannot free oneself, so really like the character in the drama, I did jealous of Han Ga In."
The co-star Kim Soo Hyun told Kim Min Seo, "Sister, are you abnormal now?" After listening to Kim Soo Hyun's advice, she only came out from the role.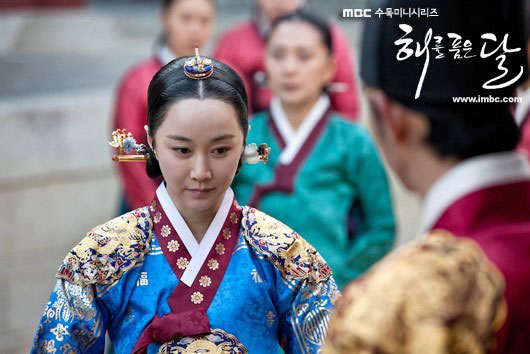 In "The Moon that Embraces the Sun", Queen Yoon Bo Kyung played by Kim Min Seo couldn't get the love and heart of the King Lee Hwon (Kim Soo Hyun) from beginning to end, because the heart of Lee Hwon has been given to Crown Princess Heo Yeon Woo (Han Ga In) who was murdered by Queen's father and the gang. Heo Yeon Woo later returns as the female shaman Wol who lost her memory.n the end, the truth comes to light, and the Queen choose to commit suicide.
According to revelation of Kim Min Seo in the program broadcast on the day, when filming "The Moon that Embraces the Sun", the title of "His Majesty" was used even during the rest time.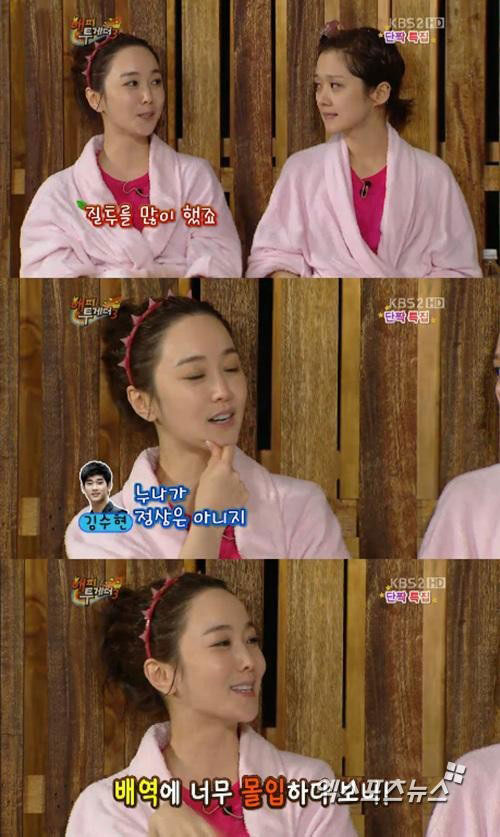 She said that because she is older than Kim Soo Hyun, so if treating very casually, I feared that I would get the habit even when acting, so I always used the title of honor."