The sharp reduction of the scenes of lead actress Han Ga In in MBC drama series The Moon Embracing the Sun has incurred far-fetched speculation and misunderstanding.
When comparing the recent episodes with earlier episodes, the scenes of Han Ga In obviously decreased. Especially in episode 18 that was broadcast on March 1st, 2012, the decrease of the scenes of Yeon Woo (played by Han Ga In) is striking, and is not even consistent with her status as the heroine. In this regard, the view of "doubt on the acting of Han Ga In" was suggested as the reason, but but from the conclusion of the analysis, the view is just exaggerated speculation.
An informed source related to the drama said, "Although it's not an exact reproduction of the scenarios from the novel, but the shooting is adapted largely on the basis of respecting the original novel. And the events that were shot recently, even reading the original novel also will find that the proportion of Yeon Woo among them is not a lot, the focus is concentrated on Lee Hwon. The view that the scenes of Han Ga In was cut due to acting issue of Han Ga In is a wrong guess."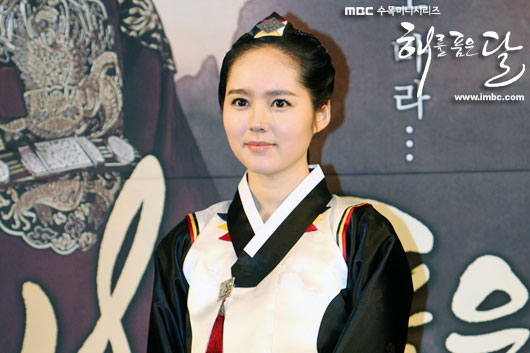 According to AGB Nielson media research agency, the rating of The Moon Embracing the Sun episode 18 is 41.2%, increasing 5.2% from 36% of episode 17. The rating is just a 0.1% difference from 41.3% rating achieved the previous week.
The last two episodes of The Moon that Embraces the Sun is broadcast on March 7, 8, 2012.
via Nate