SBS drama series Rooftop Prince is getting a lot of responses from audience.
In the premiering 1st episode of Rooftop Prince broadcast on March 21st, 2012, there is somewhat heavy atmosphere, and complexity in showing the childhood period and adult period of leading characters during Joseon Dynasty, again showing their childhood period and adult period when back in modern times.
Because of this, it makes the drama hard to understand on debut. In the 1st episode, the drama leaves a lot of hints that foreshadow the future plot development, triggering speculation on the decisively heavy content. But in episode 2, it deviates from such prediction. In the 2nd episode, the crown prince of Joseon Dynasty Lee Gak (Park Yuchun), and Song Man Bo (Lee Min Ho), Woo Yong Sul (Jung Suk Won) and Do Chi San (Choi Woo Shik) reveal their sorry state in reality when coming to unfamiliar environment, exposing such a sitcom Rooftop Prince, and lets people understands that it's an interesting drama.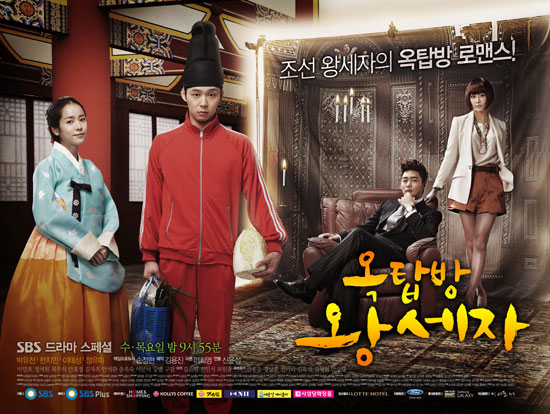 The competitor MBC's The King 2 Hearts broadcast at the same time becomes a discussion topic on the day of debut with fresh new theme and transformative acting of Lee Seung Gi and Ha Ji Won, and also leading the viewership ratings. The anxious fans of Rooftop Prince give a sigh of relief relaxingly after watching episode 2. This is because the talented characters and hilarious settings have always brought smiles to the audience, and the drama series that makes people happy is born.
The drama increases the expectation to the future plot development not only through the murder incident in episode 1 and interlinking between past and present, but also describes unbelievable elements, staging an even more intense battle of Wednesday and Thursday drama.
In addition, the lead actor Park Yoochun and lead actress Han Ji Min, have naturally portrayed the lovely charm and the looks pretending personality, winning more and more rave reviews from the audience very early in the beginning.
The transformation into villain by Lee Tae Sung and Jung Yoo Mi is also worth looking foward to. Besides, the acting which is not hesitate in destroying own image by three officials who protect the crown prince is expected to become the focus in future.
In the feast of fascinating characters and hilarious attitude, at the same time with solid story plot, with all these strengths, how is the audience ratings of Rooftop Prince going to change in future is under spotlight.
via Nate